A Stitch in Time: Quilters Find Solace and Community in an Age-Old Craft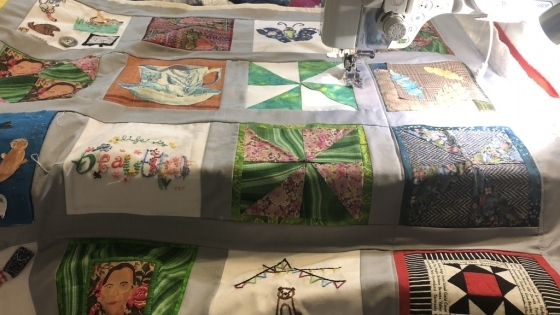 Quilts have kept people warm and served as vehicles for storytellers for hundreds of years. In pandemic times, novice and seasoned quilters alike are picking up their quilting needles and fabric as a constructive creative outlet or form of meditation. Case in point: The crowdsourced Davidson College project "Quilting COVID: Documenting a Pandemic with Thread."
Members of the Davidson College community spent the fall fashioning sewn, painted and otherwise designed squares of fabric to make a COVID-commemorative quilt, which will be displayed on campus and ultimately live in the college archives.
Visiting Assistant Professor of Chemistry Annelise Gorensek-Benitez and Research and Academic Engagement Librarian Meggie Lasher co-led the project, with funding from a Davidson Arts and Creative Engagement COVID-19 Creative Initiative Grant.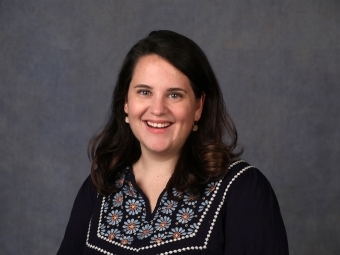 The pair asked faculty, staff, students and community members to commemorate their experiences on a 6.5 x 6.5-inch fabric square, using starter kits provided by the college.
"We're making something beautiful out of a really challenging time," said Gorensek-Benitez, who donated her time to make the quilt from all the submissions. "My hobbies are quilting, knitting, all fiber crafts, and this will be something I helped create and leave behind for the college."
Maggie McCarthy, chair and professor of German studies, jumped into the project with both, well, hands. She did not stop with one square. She made nine.
"Crafts are soothing," she said. "With COVID and the political landscape and teaching remotely, this project was so meditative. My mother was a sewer, and I have a lot of her old scraps—a big reserve to call on. It made me feel closer to her. My squares ended up being more meaningful to me than I intended."
McCarthy, an avid scrapbooker, made a 20-page scrapbook about her COVID pandemic experiences. The conclusion of that project left her feeling bereft, and the quilt project provided a welcome distraction.
"It would be wonderful to get together with the other artists after the quilt is put together," she said. "It is a visual metaphor for the ways we have all come together as a community." 
Quilting COVID ties in with the library's newly launched "Crafternoons" programming, which offers workshop and creative space combinations on campus. Some 70 registrants showed interest in the quilting opportunity.
"We've had a very good response to these new offerings," Lasher said. "At our first event, we made book snakes, which are used to gently hold books open. The engagement is great to see, and we look forward to planning more workshops to promote community in the months ahead."
In addition to a creative outlet and a source of healing, the quilt project served as a team-building exercise. Head Field Hockey Coach Zoe Almquist encouraged her players to get involved. At a team meeting, she broke them into small groups, and each group worked on a square.
"I love that each group's square is unique, but they all reflect our shared experiences," said field hockey player Molly Firr '23, an economics major. "It was nice to talk about how we decided on the design for our pieces. My group added dogs, a TV and a field hockey stick to our square, using different fabrics that were provided. Those images represent our pandemic experiences and memories."
Firr's enthusiasm about the project aligns with the gratitude the field hockey team feels toward the college. They had opportunities to come together and practice regularly throughout the fall semester, when many schools were not as fortunate.
"We all really stuck to the rules because we knew it was the only shot we had to be able to have a season," she said. "This year has brought us even closer together."