Patent Pending: Student Entrepreneur Blends Smarts and Mussels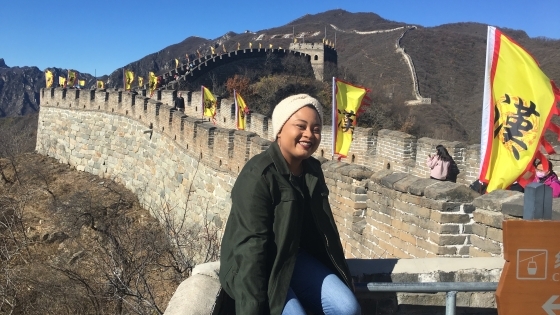 Lorena James spent a lot of time during childhood coming up with entries for her city's annual "Invention Convention."
Original: December 21, 2020 | Updated: February 18, 2021
She never won that competition, but never tired of seeking better ways to do things. She brought that innovation to Davidson College, where she's combined her passions for the environment and entrepreneurship to seek smarter, more sustainable ways for businesses to thrive. That includes her own patent-pending venture: repurposing the shells of invasive mussels from the Great Lakes' shores to use as 3D printing material.
James, a Belk Scholar and Chidsey Leadership Fellow from the class of 2021, has studied Mandarin since she was 10. That should help her next fall when she heads to Tsinghua University in Beijing as a member of the Schwarzman Scholars class of 2022.
James is the second Davidson student awarded the prestigious scholarship since the program's 2016 beginning. She'll pursue a master's degree in global affairs.
"A lot of people I know only hear the negative parts about China, that it's polluted and our international relations are complicated. I have seen its very different sides. I fell completely in love with China after one day in Shanghai."
More than 3,600 people from 39 countries and 99 universities applied to be in the incoming class at Schwarzman College at Tsinghua University. The 154 selected include an Amazon bestselling author, an award-winning film producer from China, Australia's youngest deputy mayor, and entrepreneurs in medicine, high-tech and humanitarian fields.
Schwarzman Scholars, founded by Steven A. Schwarzman, chairman and CEO of the private equity firm The Blackstone Group, seeks to foster better relations and understanding between China and other countries. Scholars take classes and attend lectures held by some of the world's top economists, educators, political and diplomatic leaders. They build leadership skills and expand opportunities by networking with those experts.
"At a moment when the mission of Schwarzman Scholars is even more important than we could have predicted," Schwarzman said in the announcement, "I am confident these individuals will become people of consequence in their generation: leading intelligently, acting with integrity, and addressing the most pressing global challenges of the 21st century."
 James, from Buffalo, New York, is an environmental studies major with a minor in Chinese studies. She started learning Mandarin in fifth grade, and as a high school sophomore, spent three weeks as an exchange student with a host family in Wuhan, China. (She still keeps in touch with them and was relieved to find out that they remained healthy during the initial outbreak of COVID-19 there last winter.)
She found China to be a study of environmental contrasts. In Wuhan, "I was surprised by the lush, green scenery that contradicted the portrayal of China's environmental issues in Western media," she wrote in an essay. "This view was complicated when I visited Beijing, where the skies were often grey, and the air was heavy with a smoky, industrial smell."
She developed bronchitis after a week in Beijing, and says she learned during that first experience: "There is no one story for China."
James spent the first semester of her second year in college studying at Fudan University in Shanghai with the Davidson in China program. During that time she also had an internship with a consulting startup that matched small American and European businesses with socially and environmentally responsible Chinese manufacturing companies.
"A lot of people I know only hear the negative parts about China, that it's polluted and our international relations are complicated," James said. "I have seen its very different sides. I fell completely in love with China after one day in Shanghai."
Entrepreneur at Heart
Associate Dean of Faculty and Anthropology Professor Fuji Lozada met James as a first-year student in the Students Together Reaching for Individual Development and Education (STRIDE) program. STRIDE supports first-year and transfer students of color through peer mentorship.
Her independence struck him: she already had her academic plans mapped out. Her bigger concern involved finding lab space to work on her 3D printing material project.
"She's very ambitious, and when she's into a project works unbelievably hard," Lozada said. "With her, the environmental and entrepreneurial pursuits are a justice issue. It's about making money to make the world a better place."
Lozada said James will especially benefit from the networking component of the Schwarzman program.
"She's very good at networking because she's very real, she's genuine," he said. "When it's genuine, you make stronger connections."
She's also deeply artistic, performs with the Gamut Dance Company and has been active in Davidson theatre productions.
James said she's always been an entrepreneur at heart and as a kid looked forward to Buffalo's annual Invention Convention.
"Every year I would submit my invention, and every year it wasn't selected," she said with a laugh.
She doesn't let rejection stop her. When she was 10, a prominent businessman visiting the private middle school where she had a full scholarship cautioned her against pursuing a business career because he didn't think she'd be suited for its "cut-throat" nature, she recalled.
That conversation cemented her decision to work toward a future in business.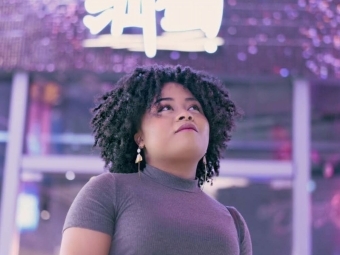 James first pitched the idea to convert zebra and quagga mussel shells into 3D printer filament in a high school entrepreneurship class. The mussels are invasive and destructive to the Great Lakes' ecosystems and their shells litter the shores.
James' process involves crushing the shells to mix with plastic pellets to convert into printing filament. She didn't win the school's award, but stuck with the project, which she named "Z Spools." In 2017, Z Spools won the Cleveland Water Alliance's Erie Hack competition. She's working with a partner in Ohio to control beach erosion with 3D printer created tree stumps.
This past year, she started a new company, 4evercurly. She uses organic, natural ingredients to make environmentally friendly hair products for women with textured hair. James makes, markets and ships the products—complete with a handwritten note to customers.
Her ventures figured prominently during the Schwarzman selection process, which involved in-depth interviews held virtually this year because of the pandemic. Interviewers on Schwarzman panels include university presidents, executives, journalists and non-profit leaders.
Scholars are selected on factors that include academic achievement, originality, leadership and character.
James said one of her more iconic episodes at Davidson captured their attention. She choreographed the Zombie wedding scene for the Theatre Department's fall "A Davidson Zombie Apocalypse" production.
That amused the interview panel: "You're the only one who's mentioned a zombie apocalypse," one member said.
Her professors say James is an ideal pick for Schwarzman Scholars.
"Lorena is an innovator and a risk taker," said Assistant Professor of History Dasa Mortensen. "She has not been afraid to take classes that challenge her in new ways or to embark upon internships in entirely unfamiliar social, cultural and linguistic environments. As a talented dancer and choreographer, small business owner, environmentalist and student of Mandarin Chinese, Lorena has a very bright future in front of her.
"Her resourcefulness, self-confidence, and can-do attitude continue to be a true inspiration to everyone around her."