A Look at a Year of Adaptation and Innovation in the Arts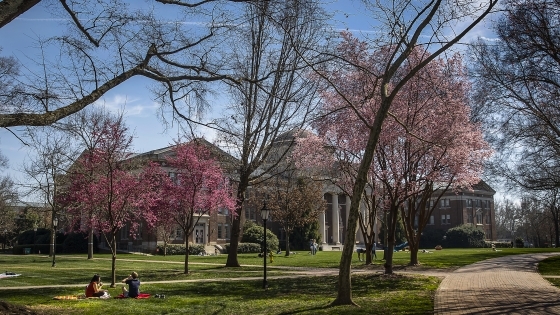 During the pandemic, professors reimagined how to teach as they adjusted to Zoom classes and six-feet-apart interactions. 
From experimenting with outdoor dance and music classes to reducing learning barriers inherent in the traditional behind-the-podium lecture set up to finding creative ways to virtually honor milestone moments in students' academic journeys, departments discovered new ways to reach students and share their art.
Community Movement
When COVID-19 shut down theatres and canceled shows, artists found a new stage on Chambers Lawn.
"When students returned to campus in the fall, they were itching for movement," said Dance Professor Alison Bory.  
That desire served as the impetus to institute a dance masterclass—a series of experimental Friday afternoon dance classes open to the Davidson community. 
The class took place outdoors and was live streamed online. The sessions included a Davidson alumna yoga instructor, a dance scholar on South Asian aesthetics and a dance teacher for a costumed Halloween nod to Michael Jackson's "Thriller." 
Of this time of quarantine and isolation, Bory said, "we need to find joy; we need to find connection; we need to keep experiencing our bodies."  
In addition to the Friday masterclass, the dance department faculty invited renowned artists to Zoom-share their knowledge--from Miguel Gutierrez for a dance composition course to Haitian artists for a class on dance in the African diaspora. 
Rethinking Access
Davidson College's permanent art collection contains over 3,500 works spanning more than five centuries. Pre-pandemic, the collection could be viewed by appointment. 
When COVID-19 shut things down, the college expanded access to the rest of the world.
A team of students and staff joined forces to make the collection available online by mid-summer of 2020. Now, you can browse the entire collection from a coffee shop or your couch, a landmark moment already transforming students' access to artwork. 
 "It's amazing. We had a project with a psychology class, and many of the students went to the online collection," said Director and Curator of the Van Every/Smith Galleries Lia Newman. "They found these objects they would never have found if they just came to see the collection in-person, where not everything is framed or as easily accessible."  
While the online version is not a substitute for the experience of seeing the texture or scale of a work, Newman said, it is yet another way for more people to experience Davidson's art collection. 
"Museums and galleries can sometimes seem elitist, or feel like they are only for some people," Newman said. "A silver lining of the pandemic has been the democratization and accessibility of spaces and collections." 
Showcasing Student Work
Where the Smith Gallery once filled with friends and faculty of seniors hosting their capstone exhibition receptions, now, live recorded videos of seniors' studio tours, gallery talks and virtual exhibitions have found a digital home on the Davidson College Art Galleries website.
The interactive virtual tours mimic moving through the Smith Gallery, complete with labels for each art piece, a 360-degree rotation of the space and the ability to opt into a virtual reality mode.  
"The software is also a great way for students to conceptualize their exhibition layout, while providing wider accessibility," Newman said.    
"Everyone's been so innovative," she said. "It has made us really stretch and rethink how we share our information." 
Senior exhibitions live on their own web pages. The Annual Student Art Collection, with works selected by studio art faculty from art and non-art majors, also is on display in a virtual tour. 
 
Exploring New Venues
Before the pandemic, Eric Keith primarily focused on "filling the seats in the hall."  When COVID-19 canceled music performances, social media became the new venue for accessing the department's many events. 
A student first proposed the idea of a Zoom virtual concert to Music Professor and Jazz Ensemble Director William Lawing. This led to the department's first pandemic virtual concert. The Jazz Ensemble's Pokémon Theme Song also earned a spot in the class of 2020's virtual celebration. 
 "We ended up with a terrific moment (at the virtual celebration)," Lawing said. "It was only a moment, and that's all we were able to do, but we were still an ensemble." 
The department has since put on various virtual concerts—all pre-recorded in a safe, socially-distanced environment. 
Out-of-the-Box Thinking
When students and staff were sent home in the spring of 2020 last year, Theatre Professor Steve Kaliski '07 was struck by the amount of vast, empty campus space that suddenly became available. 
Over the summer, he utilized it to produce the socially-distanced drive-thru theatre production "Exit 30." 
"If this were a space in Manhattan it wouldn't work, but we had the whole campus to ourselves," said Kaliski, who has worked professionally in New York City. 
The distinct vignettes, from a #BlackLivesMatter protest to a socially-distanced, sorrowful birthday party to an Indiana Jones spoof—led the audience from the Armfield apartments towards the Alvaréz College Union in their cars. 
With full cast Zoom rehearsals to sort out show logistics, actors—a mixed cohort of Davidson students, Winthrop students and local artists—worked independently in pairs to create and rehearse their skits. 
"The pandemic has shown us that we don't always have to do work in a building. We have the capacity and imagination to do work in other ways," Kaliski said of the future of Davidson's theatre productions. 
The lessons learned from the novel production paved the way for the department's following fall semester drive-thru show "Ubi Orta Pestilentia: A Davidson Zombie Apocalypse," co-directed by Kaliski and his students.
 
Personal Touches
While the English department adapted swiftly to the COVID-19 pandemic, first with an online awards ceremony and on to virtual Cold Open creative literary community events, the most ambitious feat may have been the department's Annual Senior Cocktail Party. 
The event is usually marked by tasty hors d'oeuvres and informal conversation between students and their professors. This year, department coordinator Kathy Barton partnered with Much Ado Catering to re-create the experience virtually. 
"The event is meant to be more of a friendly, relaxed and carefree atmosphere to kick off the new semester and celebrate their work," said Barton, who masterminded the effort. 
Her inspiration: a family Zoom bridal shower she attended earlier that year.   
The delivery: a winter-themed box packed with sweet and savory snacks, hummus and pita, kabob skewers, snowflake cookies, truffles, a champagne flute with sparkling grape juice, and a snowflake-themed mask and hand sanitizer bottle delivered the day of the celebration.  
Students living outside the Davidson vicinity received a box with non-perishable items.
"We worked with Charlotte Sappenfield, and it was above and beyond what was expected," Barton said. "It was done beautifully." 
Informal Connections
Professor Maggie McCarthy began the year by emailing students enrolled in her "Intro to Film & Media Studies" course a series of short videos from the comfort of her couch.
She shared a show she liked, Atlanta, as well as an online analysis of one of its episodes, asking students to reply with their own favorites.    
"Doing this is a way to begin building individual bonds with students," said McCarthy, who, in a typical year, relied on the classroom space to facilitate that process. 
McCarthy coordinates the Film & Media Studies department. For her, a class community where students can be themselves is essential for discussing visual culture. 
"What are you watching right now? What's rocking your world?" She had students address these questions in a new assignment called "Watch-Klatsch." Once a week, they gathered in small groups outside of class to talk informally about course material as well as something they'd watched and how they felt about it.  
"Emotions can be a really good launch pad for analysis," she said. 
Her goal was a stress-free way for students to connect, without the pressure to sound smart. 
"The upside of online teaching is the intimacy of seeing a professor at home," she said. "I think it's something I'm going to keep doing because it softens things in a good way."
Read more on how students and faculty were encouraged to explore and innovate through Davidson Arts & Creative Engagement grants.