$4 Million Gift to Help Prepare Davidson College Students for Careers in an Evolving Workplace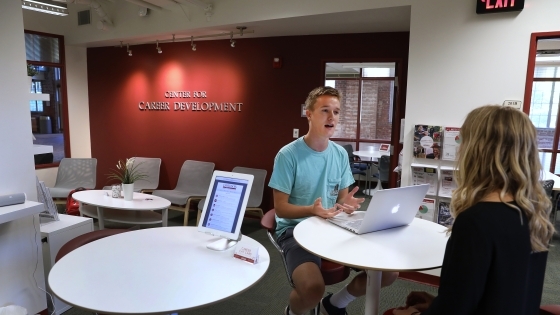 Part of the gift will be used to renovate the existing space inside the Alvarez College Union, creating additional spaces for conversation, engaging workshops and employer interactions. A larger portion of the gift will support programming and greater student access to employers.  
"Our students are preparing for a rapidly evolving workplace. In some cases, the jobs they will pursue after graduation did not exist when they started college," said Davidson College President Carol E. Quillen. "Davidson helps all students develop foundational attributes like creativity and analytical discipline, and they learn transferable skills, like the ability to reframe intractable problems, communicate across diverse audiences and learn new things on their own. Now, thanks to this gift, we can offer students many more opportunities to build on these attributes and skills so that they can significantly contribute on day one of their chosen career."
Career exploration is an important part of students' investigation of academic disciplines, culture, language, and more. The gift will allow the Matthews Center to expand unique-to-Davidson programs to help students explore a wide variety of career paths and interests.
The generous funding also will allow the Matthews Center to develop robust skill-building opportunities alongside campus partners like the Jay Hurt Hub for Innovation and Entrepreneurship and provide grants to students seeking outside certifications and credentials that will make them stronger candidates for graduate/professional school and full-time positions after Davidson.
Frank Matthews is enthusiastic about the many ways the Matthews Center will help students pursue meaningful vocations.
"We hope the Betty and B. Frank Matthews II '49 Center for Career Development will serve students' needs as much as Davidson itself served mine," he said. "Davidson was simply a school when I stepped on campus as a freshman. However, by graduation, it was my home, and now it is my pride and joy. I never knew in the beginning what this place would do for me. I grew, I learned, and I thrived. As I reflect back on my life, I think about how much I loved my career, and I hope all students who walk through the doors of the Matthews Center will find their path forward to productive careers and noble lives."
Enhanced Opportunities
Recent graduate Alan Morales Loyola '21, a QuestBridge Scholar, Division I soccer player and first-generation college student, prioritized career-related opportunities all four years on campus.
"The center has so many opportunities; you just have to take advantage of them," he said. "I look back on my four years and think, yeah, I did that really well."
Morales Loyola majored in Latin American Studies but took classes from every discipline he could fit into his schedule. He loaded up on accounting and finance classes in line with his career interests, along with courses in anthropology, music, economics, mathematics and political science.
Through the newly named Matthews Center, Morales Loyola attended Training the Street workshops and the Davidson on Wall Street program. He interned one summer with a private equity firm in Florida and, the following summer, completed an operational risk management internship with his now full-time employer, Ally Bank.
"I attended an informational session on campus and networked with Davidson alumni, and that led to the interview with Ally," he said. "My classmate, Manny Abiad, and I were some of the first Davidson interns with Ally—we weren't a target school before, and now that has all changed."
The $4 million gift ensures all students, like Morales Loyola, will have even more opportunities to connect with employers, consider a wide array of career paths and get personalized coaching and advice from the Matthews Center staff, led by Executive Director Jamie Stamey. The team has focused on areas of specialization in recent years, hiring one adviser to focus on scholar-athletes and one specifically in support of international students.
Annually, nearly 96% of students across all four class years engage with the center. This includes more than 2,100 advising appointments and 8,000-plus total interactions between center staff and current students and alums.
"Career development has grown substantially from the traditional and still-important mock interviews and resume writing to high-level internships, research experiences, international opportunities and in-depth networking and advising," Stamey said. "This tremendous gift allows us to enhance many of the programs our students depend on as they explore ways to align their passions with career options and add employability skills training, specialized advising and programming for diverse student populations, and important employer relationships for internships and full-time employment. Our team is grateful and excited to be able to serve our students better and explore new partnerships that will further contribute to their lives of leadership, service and impact around the world."
Frank Matthews said his Presbyterian upbringing and his Davidson education taught him a strong work ethic, which prepared him to follow in his father's footsteps as a successful merchant. He and his team worked alongside the Belk family to expand the footprint of the Matthews Belk stores in the North Carolina Piedmont. He retired as vice chairman and director of Belk, Inc.
At Davidson, Matthews was a member of the track team and Kappa Alpha fraternity and participated in ROTC. He has served the college as an engaged alum for many years, including as an annual fund class chair and as a member of the board of trustees, board of visitors and several class of 1949 reunion committees. Notably, he established the Matthews Travel Grant, which is awarded annually and recognizes outstanding and unselfish service by Davidson faculty and staff.
Now, Matthews' contributions—to Davidson, to his family and to his career—will be honored and celebrated by students preparing for lives of leadership and service with the guidance and support of the Matthews Center.