It's Easier Than Ever for Students to Find Life-Changing Internships, Research and Travel Opportunities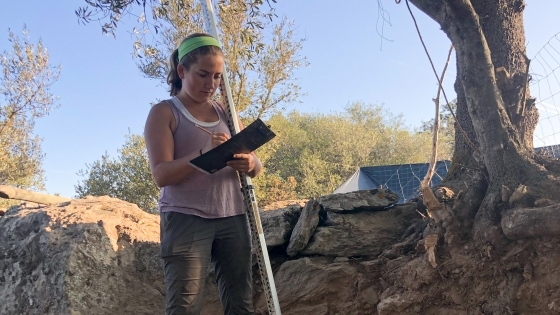 An internship working with children made DaShanae Hughes '21 a better communicator, teacher and advocate.
Now, the recent graduate will join KIPP public schools as an English Language Arts teacher.
"I'm the type of person who, in an interview or presentation, gets incredibly anxious and jittery," Hughes said.
But that changed after she spent six weeks as a Children's Defense Fund (CDF) Freedom Schools servant leader intern, teaching, cajoling and learning with a classroom full of energetic young children. The program uses a research-based, multicultural curriculum to empower K-12 students to succeed in school while also mitigating summer learning loss.
Hughes, who taught afternoon enrichment classes on cooking and cardio dance, said the experience made her more assertive, communicative and creative.
Hughes is one of many students who've participated in high impact experiential learning opportunities at Davidson—they just might not have known it. And others might not know what all of their options are because, until recently, information about these opportunities—some of which come with grant funding—wasn't available in a central location.
Now, these co-curricular experiences fall under the auspices of the Catalyst initiative. A team of faculty and staff from departments representing community-based learning, research, career development and education abroad, launched Catalyst to bring all of these opportunities under one umbrella, and to offer a central destination for students to discover them.
The menu is diverse—students will find a vast range of opportunities, from work with community organizations to research abroad to programs to hone new tech skills.
"At Davidson, we are incredibly lucky to have many grant resources and summer programs," said Stacey Riemer, Center for Civic Engagement director. "Given the important role these experiences play in student learning and success, we wanted to centralize and market these resources so that they were more visible to students."
"What distinguishes a Catalyst experience from other experiential learning opportunities is that they immerse students in discovery and problem-solving" Riemer said. "They incorporate critical reflection components into active learning experiences outside the classroom."
The effects of getting out of the classroom, and often off of campus, to learn and work with partner organizations can ripple through the rest of a student's educational experience, and sometimes make lifelong waves.
In the wake of social justice protests in 2020, students with Davidson in Silicon Valley designed their own web projects, including a site that helped consumers find and support Black-owned businesses, and another to help improve access to maternal health resources.
Eleanor Lilly '22 received a Dean Rusk Travel Grant to visit Caladinho, an archeological site in the small, western Portugal town of Redondo, once the outer bounds of the Roman Empire. There, she would spend the mornings digging for five to six hours and the afternoons cleaning any findings with a toothbrush and water bucket.
 "It wasn't really about you, the 18 year-old, and what are you getting from this," Lilly said. "It was about the work, uncovering their stories, and I'm just a blip—I really liked that."
The experience helped her to understand "where I fall on the greater scheme of history," and provided the invaluable experience of working with a team of archeological experts, she said. 
Just before COVID-19 shut down borders, Skylar McVicar '23 returned from the Chaplains' Office-sponsored spring break trip "Exploring Our Jewish Identity" in Poland. She said it was an incredibly emotional experience and had a lasting impact on her and others on the trip.
"We made a commitment to hold more campus events," said McVicar, who is also vice-president of the Jewish Student Union. "We want to engage students who might not be particularly knowledgeable about Jewish history and how anti-Semitic views exist today."
She based a class research project on how trauma is portrayed in Holocaust art. 
"I would not have chosen that topic if it wasn't for that trip," she said.
Katie Turner '21 said an internship at SC30 Inc. changed her understanding of what a business can do, and what she will do after Davidson.
SC30 Inc., the organization, founded by Golden State Warriors point guard and former Davidson men's basketball standout Stephen Curry and his friend and business partner Bryant Barr '10, is the expansion of Curry's brand beyond basketball—investments, media, brand partnerships and philanthropy.
"I was one of six people who worked in the company and was put on many projects and jobs," she said. "I had so many roles. I was able to get my bearings on what kinds of projects I really enjoyed and didn't enjoy as much."
Primarily, Turner worked on projects for Ayesha and Stephen Curry's Eat. Learn. Play. Foundation.
"Seeing what one foundation, and couple [Ayesha and Stephen], did for kids and families transformed my view of business," she said. "It encouraged me to go into a similar field, using business as a force for good."
She is now pursuing her MBA at the University of Notre Dame.
Pandemic Pivot
Though the pandemic scuttled travel plans and resulted in constraints around how students can work with community partners, students have embraced virtual opportunities.
Students were involved in more than 200 remote internships, community engagement experiences, and community-based learning course projects. These varied, from reporting for a news organization to interning with Krispy Kreme's Human Resources Department.
Davidson's partnership with Qasid Institute has for the past years taken many students to Amman, Jordan, to learn Arabic, but the program pivoted swiftly to a virtual mode for Davidson students because of the pandemic.
"I was very impressed with how they Zoomed with the whole group of students and faculty to explain the online option," said Professor of Arab Studies Rebecca Joubin. "Right away they assured us they would incorporate a cultural component."
Come fall, students came back ready to enroll in advanced Arabic content courses, like their predecessors had.
"It is incredible to think that we are able to so easily converse with and immerse ourselves with a totally different country [and] culture from the comforts of our own house," one student remarked.
While many students improved in the language, it was jarring for some to transition from an Arabic-intensive virtual environment to home, where no one spoke the language.
"While the Arabic department dreams of a day students can travel safely again," said Joubin, "I am grateful for Qasid's help to ensure our students can remain competitive in their studies and on track to fluency like the students before them."
The Arabic program ran online again this summer.
Adrienne Lee '21 had planned to board a flight for France during the summer of her junior year for an art and research residency through the Fujita Arts Endowment Grant.
With flights canceled, she booked a stay in Charlotte and found another way to make art.
"It's easy for your muscles to forget," she said. "It's like practicing piano or learning a language." 
As planned, she kept in touch with the media director of UNESCO's Humanities Arts & Society (HAS), albeit virtually.
"I was really alone in this project. I had to push myself and motivate myself to work," Lee said. "It was a very depressing and chaotic time."
She submitted two art pieces, a digital illustration and another steel sculpture that was elected for publishing in an HAS' magazine piece.