Thank You! Thank You! College Appreciates, Awards Employees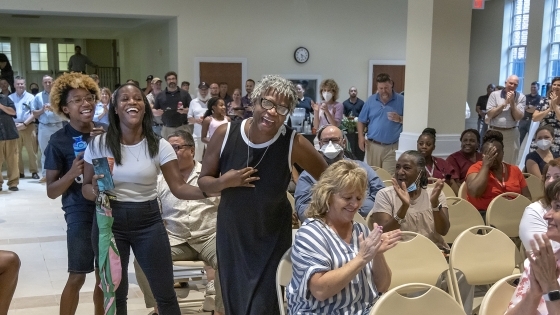 Davidson College recently honored employees for outstanding service, including President Carol Quillen, who will step aside next month after 11 years.
The college's faculty and staff gathered June 17 for a reception to celebrate the end of another successful academic year, recognize those who are retiring, and hand out awards to several outstanding employees. 
Quillen, who spends such events thanking others, received tributes from across the college community.
"We have immense gratitude for your courage and compassion," Magdalena Maiz-Peña, professor of Hispanic studies, told Quillen. "We thank you for merging ideas with action, tradition with change…You have inspired us."
Head Football Coach Scott Abell thanked Quillen for her vociferous presence on the sidelines.
"You took all of our passions and made them yours," Abell said. "That's not something you can say about all college presidents."
He also credited Quillen for guiding Davidson through the tumultuous course of the COVID-19 pandemic.
"Through these historic last two years, we have had leadership at its finest," Abell said. "Carol brought us that."
Board of Trustees President Alison Hall Mauzé '84 also attended the event and praised Quillen. 
"What a magnificent president we have had for the last 11 years," she said. "Her fingerprints are on every corner of this campus. Carol, you have made Davidson better and we're eternally grateful."
Quillen, Davidson's 18th president, will step down at the end of July. President-elect Douglas A. Hicks '90 begins his new post on Aug. 1.
Employee Awards
The college also honored employees with annual awards. They include:
Spirit of Davidson Service Award: Amanda Jones
Students nominate hourly staff members for the Spirit of Davidson Award and had many nice things to say about Amanda Jones at the Davis Café.
"She worked tirelessly every morning to help keep some of us early risers fed," one said. "It was like a mother making her kids breakfast before we started our days! She also always asks to make sure I have everything I need if I'm waiting for my food and wishes me well once I'm on my way."
Others describe how she pays close attention to students' food allergies and dietary restrictions, and makes sure athletes get a good dose of nutrition to help power them through tough workouts and competitions.
"She is always there to greet everyone that walks in with the biggest smile on her face," one student said. "She truly brightens everyone's day."
The award honors staff members who excel in service to the college and its students. It's the 11th year of the award, which Kathy and Gary Parsons established in appreciation for the caring way the staff treated and supported their son Mike '08. The original award is $850; Mathematics Professor Donna Molinek and Frank Molinek added a gift to make the award $1,000.
Hackenson Family Fellowship: Sandy Helfgott
Some of the most widely read and amusing campus emails come from Sandy Helfgott, the college's director of physical education and recreation.
His challenges inspire the college community to exercise, eat better, hydrate and take care of themselves—physically, mentally and emotionally.
"He provides creative and meaningful programming. And humor," nominators said. "And we all needed some humor after the past few years. He cares deeply about our students, and it shows in everything he does."
The award, established by Elizabeth and Bill Hackenson in honor of their son Billy's 2013 graduation, recognizes a staff member who provides superior service to the college and its students. The $5,400 award is to be used for travel or continuing education.
Matthews Travel Endowment Award: Rob Spach '84 and

Vanessa Victor
College chaplain Rob Spach has spent decades offering kindness, pastoral counseling and emotional support to students during times of trouble.
In the past year, that included helping them set up a memorial service to honor a classmate who died, and an interfaith peace vigil after Russia's invasion of Ukraine.
"He is a counselor, spiritual guide and friend to so many on campus," nominators said. "He has created a space on campus that is truly welcoming and inclusive of people from all backgrounds and traditions."
Vanessa Victor serves as department coordinator for Anthropology, Math and Computer Science, Philosophy, Russian Studies, and Hispanic Studies.
Though she's technically there to help faculty, she's expanded her role to mentor students, "whether they stumble into her office in search of guidance," nominators said, "or through her interaction with them as a work-study student manager."
"She is a model of exemplary work, thoughtful and wide-ranging support capabilities while also maintaining an outstanding professionalism, candor, and positive outlook," the nomination said. "She is an indispensable manager, a servant-leader of office affairs, and project specialist.
She gives of her time and her talent generously, and we are all better for it."
Frank Matthews '49 established the award in memory of his brothers, Eugene Robinson Matthews '36 and James Houston Matthews '50. The award is "in due recognition of the outstanding and unselfish service rendered Davidson by members of the college family." The $20,000 award covers travel for the recipients and their families, "to afford opportunities for personal renewal and enjoyment."
Staff Diversity, Equity and Inclusion Award: Tamberly Ferguson
Tamberly Ferguson, director of digital media & strategy at WDAV, is the first winner of this new annual award.
The $10,000 award recognizes a staff member "who has worked hard to create positive, systemic change in the Davidson College community. This person has gone over and beyond the call of duty to make Davidson a more diverse, equitable, and inclusive place." 
Ferguson came to Davidson in 2012, and nominators said that "without her constant dedication and passion for inclusion of people of color and other marginalized people in classical music, we wouldn't have such diverse airplay, podcasts or playlists as we do now.
"She is very accepting; she understands that everyone comes from different backgrounds and has their own point of view. She has happily embraced differences and welcomes everyone, no matter what their opinions or beliefs are."