Scholarship Supports Outstanding Track & Field Scholar-Athletes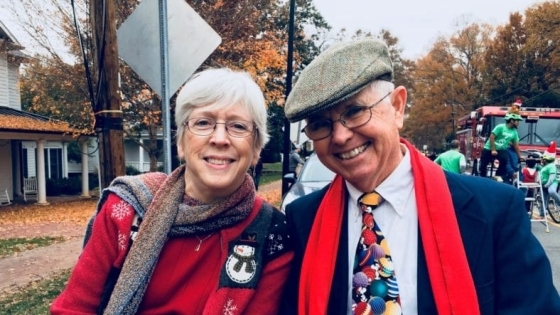 Like many Davidson students, Sterling Martin '63 arrived on campus and soon realized his entire class had accolades just like his, high school transcripts just like his—but a week into his first year at Davidson, chance and a college tradition collided to help Martin find his place on campus.
As Martin headed out of his dorm room to join the throng of students participating in the Cake Race, a member of the housekeeping staff, Henry Withers, joked with Martin and told him he wouldn't be any good at running. 
The joke was on him. Martin won the race and handed his cake to Withers. Martin's success caught the attention of Cross Country & Track and Field Head Coach Pete Whittle '30, who founded the Cake Race in 1930 as a means to flag talent throughout his 42-year Davidson coaching career.
"It was serendipity in a way, because running then became my identity," Martin said. "I had no background in it, and it had never even crossed my mind. I had to ride the school bus to and from high school, so my schedule never allowed for joining a team like that. So I joined the cross country team at Davidson after a friend told me it was fun to run through the woods, and realized not too far into the season that I probably had some talent for doing it." 
The Cake Race launched a stellar collegiate career for Martin, including three all-conference awards and, unexpectedly, set him on a career path. He held assistant coach positions under Coach Whittle before becoming the head coach for cross country in 1970. He added the track program two years later when Whittle retired. He also served the college in other positions, ranging from assistant director of the college union to assistant director of athletics to director of physical education and intramurals.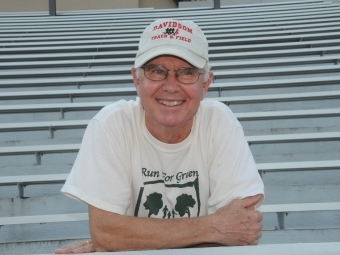 "My times wouldn't hold up against the times of our runners today, but I did ok," Martin said. "It set me up for a really enjoyable career at Davidson. I guess every organization needs a utility man, and that's what I was for many years. I helped out wherever help was needed."
Martin's dedication to and love for Davidson inspired a close friend and anonymous donor to create the Sterling T. Martin Jr. Cross Country and Track & Field Scholarship, which has already supported two athletes in the program and will create many more opportunities, in perpetuity, for the coaching staff to attract exceptional talent.
"Almost everything Sterling does is in the name of others and the community and college," the donors said. "We wanted to support Davidson and honor him." 
Davidson College Athletics finds success despite having few scholarships in their conferences, in comparison to other Division I programs. Director of Athletics Chris Clunie '06 speaks often about shifting to a mindset of doing more with more, instead of doing more with less. This scholarship moves the cross country and track & field programs further in that direction.
Head Coaches Renny Waldron and Jen Straub are thrilled. 
"The addition of the Sterling Martin scholarship is invaluable as it allows us to continue to yield top scholar-athletes that may not be able to attend otherwise," Straub said. "Competing against other colleges and universities, it is imperative that we recruit top-level athletes who can score at the A-10 Championships. This generous scholarship allows us to go after well-rounded scholar-athletes and that energizes our programs."
The scholarship will help Davidson attract high-achieving scholar-athletes and support the college's goal of consistently being on the podium in the Atlantic 10, Waldron said.
"On behalf of our program, we are so extremely appreciative of this generous gift," he added, "as it really helps push the needle toward enabling our student-athletes and program to be the best they can be."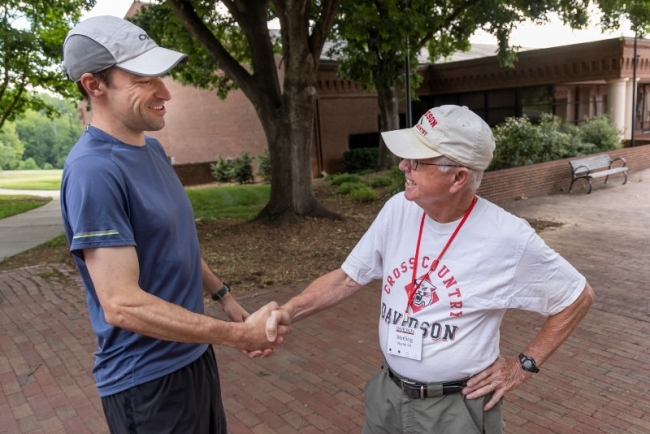 Ready to Win
The new scholarship has already made a difference for Davidson cross country and track & field. One of the recipients, Joseph dosReis '23, came back ready to win after two years of dealing with injuries.
"I compete in cross country and track in everything from the 800 to 3,000 meters," he said. "Coming back from surgery was a big accomplishment and, last year, everything came together."
dosReis won the mile race at the indoor A-10 Championships, and he was the anchor on the winning DMR (distance medley relay) team. In outdoor, he made it to regionals, where the top 96 in each event, nationally, are invited to compete. Additionally, he was named to the NCAA All-American team for track & field, which celebrates the scholar-athlete's ability to balance academics and athletics.
dosReis' future plans are related to his experiences as a Davidson scholar-athlete. He hopes to continue running in graduate school, where he will earn either a master's degree in public health or in biology. Then, he hopes to go to medical school.
"Right now, I'm leaning toward becoming an orthopedic surgeon," he said. "My own surgeries piqued my interest, and because of those surgeries, I have a greater risk of developing arthritis, so I'd also like to do research related to that." 
When dosReis decided on Davidson, he chose to part ways with the other front runners, Princeton and Georgetown. He felt certain of his choice at the time, but his challenges confirmed he was exactly where he should be. 
"I think If I had ended up at another program, I would have had a much harder time coming back after my injuries and surgeries," he said. "It's easy to get lost in big programs, especially when you're hurt. But I never got lost in the shuffle of things at Davidson. Coach was with me the entire time, every step of the way." 
Martin, like dosReis, could have gotten lost in the shuffle, but on the academic side of his education. 
"Originally, I was interested in Davidson's 3:2 engineering program, because my dad was an engineer," he said. "But I came in and promptly flunked freshman math. I was not a great scholar at Davidson, and I like to say I made the 'upper half' possible. I also had every job on campus—bussed tables for food service, lifeguarded at the pool, led tours of campus, worked the front desk at the guest house. But I made it through with the help of many, all while running."
Freshman math notwithstanding, Martin's Davidson legacy is one of achievement and dedication. This new scholarship celebrates an exceptional coach, an extraordinary friend and an excellent program poised for exponential growth.
"It's so humbling to have this scholarship created in my name, and I'm thrilled that it will allow our program to be more competitive," Martin said. "I went on one recruiting trip the entire time I coached at Davidson. We went to Philadelphia, and we had to sell them on Davidson. There was nothing else we could give, so there was little chance of getting blue-chip athletes. I'm glad this scholarship allows our team to show up with a lot more."
If you are interested in supporting the Sterling T. Martin Jr. Cross Country and Track & Field Scholarship, please contact Dan Drayer in the Development Office at dadrayer@davidson.edu.