A College Love Story: New Stephen Curry '10 Documentary to Make Its World Premiere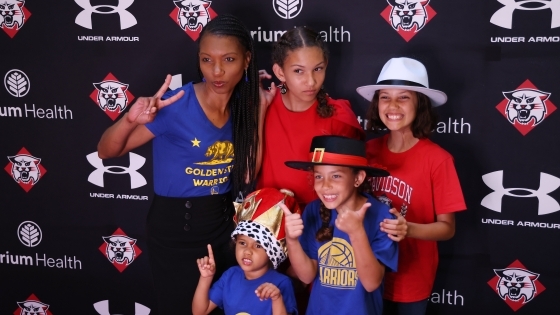 Basketball season doesn't start for a few months but if you want to curl up with some cool inspiration to combat summer's unrelenting heat, one of the game's greatest has some to share.
Stephen Curry: Underrated premieres Friday, July 21, in select theaters and on Apple TV+. The documentary follows Curry's unlikely journey as an under-recruited high school player who led his underdog Davidson College Wildcats' magical NCAA tournament run before becoming the NBA's unmatched three-point shooting legend.
From Davidson to the Silicon Valley, Italy to Kenya, and other locales around the world, Curry's college community will gather for watch parties, loading up on his favorite snack—popcorn—and other treats.
The college features prominently in the film, which some early viewers describe as "a love letter to Davidson." It includes home videos shot by former Davidson students, faculty, staff and friends.
This past week, Curry '10, who's led the Golden State Warriors to four national championships, popped up everywhere. He appeared on TV shows like Today, and LIVE with Kelly and Mark to talk about the documentary—and golf.
Last weekend, he caught the sports world's attention by winning the American Century Championship, a golf tournament for top athletes, in some dramatic twists that you don't expect in what can seem a staid game. (To non-golfers.)
In one round, Curry shot a hole-in-one, then exuberantly dashed to the hole as if the greens were a basketball court and he'd just scored the winning three-pointer. The next day, he clutched victory with an 18-foot putt on the 18th hole. He also made a coveted "Eagle,"—a rarity in golf. Curry's trademark joy was on full display as he rushed to hug his wife, Ayesha.
He says he doesn't plan to retire from basketball anytime soon. But would it really surprise you to see him starring on the PGA circuit someday?
Also Starring: Davidson College
From perfecting three-pointers to putting like a pro to earning his college degree, Curry has worked relentlessly to succeed. And to do good, by tackling poverty through kids—giving them and their families access to healthy food, sports and books through the foundation he and Ayesha created.
That steely work ethic steers the documentary, and Curry's life. As a smaller guy in a bigger man's game, he's spent his life demonstrating that the skeptics who once dismissed him were way off base.
"It's not that I was proving everybody wrong, I was proving myself right, that I could make it with hard work and undying faith in myself," he said in a Today show interview. "It's not just a sports story, it's a story for life."
Curry had some cringey moments watching the documentary, including clips from his first game as a Wildcat, where he scored 15 points, but also had 13 turnovers.
"It was even worse than I remember. I looked like a baby giraffe out there on the court. I'm sure Coach (Bob) McKillop was kind of second-guessing himself," he said with a laugh. But McKillop's belief in him remained strong and Curry remains grateful for "the support I've had around me, my family, friends, teammates and coaches who uplifted me."
Success didn't come magically, or without heartbreak, and Wildcat fans especially may shed some tears in at least one scene from the team's 2008 NCAA run.
When Curry opted out of his senior year to enter the NBA draft, he promised his mom, Sonya, and McKillop that he'd get his diploma someday, "because going to Davidson was a decision not just for basketball, but for the education it provides."  
The film includes moving highlights of his return to campus last summer to graduate, have his number 30 retired, and be inducted into the college's athletic Hall of Fame.
From Coast to Coast, a Local Hero
The documentary came out earlier this year, screening at places like the San Francisco and Sundance film festivals. In April, Davidson held the first non-festival screening, which drew a packed house from the college, as well as Curry's family members and friends.
Emmy Award-winner Peter Nicks directed the film, which was produced by Oscar-winning indie film company A24, Curry's production company Unanimous Media, Wakanda Forever director Ryan Coogler and producer Erick Peyton.
Sebastian Provencio '25, will gather at his Davidson apartment with his former roommate and fellow Sustainability Scholar interns. He missed the April campus screening and this week won a college raffle for a watch party meal give away. He'll order Chinese takeout for his group.
"Steph is special because he proves that Davidson grads can do great things. It's hard to imagine that the guy I watched dismantle the Boston Celtics in the 2022 NBA finals once lived in the same dorm I did when I was a freshman," Provencio said. "His loyalty and humility, despite being one of the best basketball players ever, is inspiring. He makes me think that because I go to the same school he did, I can turn out as well as him, even if I can't hit 30-foot step-back 3s."
In Mountain View, California, Ed Van Deman '69, his wife and a mix of about 20 local friends (including other Davidson alums) will gather in a private room at a favorite Italian restaurant. They'll have a pulldown screen and he'll bring a projector and laptop to create a movie theater-like setting.
Van Deman says Curry's immense popularity there goes beyond the basketball court to the important charitable work that he and Ayesha do to support disadvantaged communities through their Eat. Learn. Play. Foundation.
"Stephen has had a tremendous impact on the San Francisco Bay area. He has played a big part in making the team successful," Van Deman said. "He is such an amazing player…and he is a wonderful person that everyone can admire."
And his connection to Davidson is a point of pride for West Coast alums.
"Before Stephen, no one in the Bay area had heard of Davidson," Van Deman said. "Now many, many people have."
Find Your Gift
What does Curry hope people will take away from his story?
"Being underrated is a badge of honor. It's encouragement to run your own race, to be in a position where you are good enough," he said in the Today interview. "If you have the right support system around you, if you put in the time and work—whatever your craft is, whatever makes you special, makes you different, makes you unique—that's your superpower.
"I want people to embrace that journey because we all have something to offer the world, and I hope that you find it."