My Davidson | A Student Blog
Four Students Discuss Their Summers With Davidson in Washington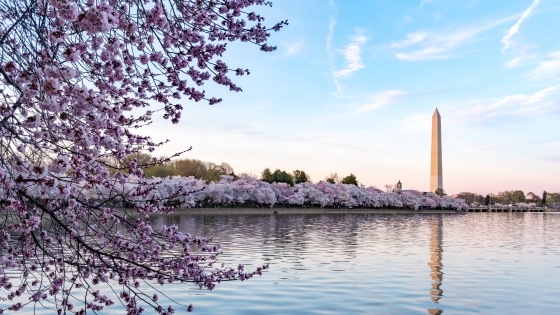 Four political science majors share their experiences with Davidson in Washington, an immersive summer opportunity for Davidson College students.
---
About the Authors
Spencer Wolff '25 (he/him) is a political science major and data science minor from Mamaroneck, New York. 
Connor Hines '26 (he/him) is a political science major from Mooresville, North Carolina. 
Baldwin Barnes '25 (he/him) is a political science major and philosophy minor from Tampa, Florida.  
Kate Spencer '24 (she/her) is a political science and Russian Studies double major from Dallas, Texas. 
Learn more about the authors below.
---
Davidson in Washington (DIW) offers Davidson College students the opportunity to gain real-world government internship experience within the nation's capital, while simultaneously obtaining course credit for a political seminar taught by a Davidson political science professor. Meet four Davidson College students who spent summer 2023 in Washington, D.C.
Outside of their individual internships, these four students were part of a seminar with Prof. Susan Roberts on the issue of intense hyperpolarization and the threats it presents to American democracy. Dr. Roberts brought in various speakers who were experts in their fields and all gave great insight into the issue of polarization from their respective lenses.
Baldwin Barnes '25: Capitol Hill with Congresswoman Kathy Castor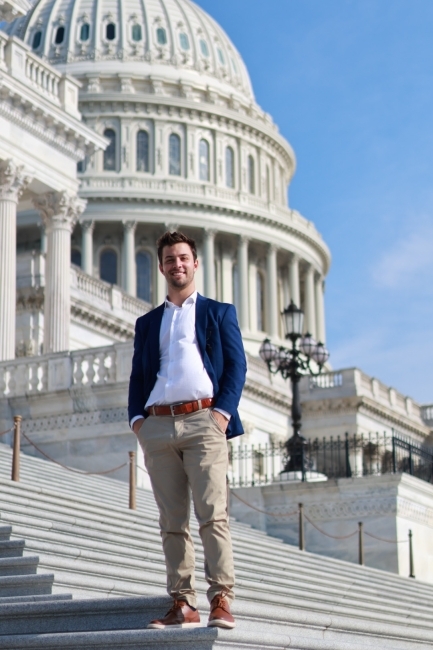 I've been incredibly fortunate to have the opportunity to work on Capitol Hill alongside Congresswoman Kathy Castor. My role involved actively assisting constituents through various channels, including handling phone calls, responding to emails, and addressing letters. Additionally, I take immense pride in conducting engaging tours of the Capitol building for visitors. Moreover, as part of my responsibilities, I attend important briefings and hearings on behalf of the Congresswoman. This grants me the chance to gather vital information from diverse companies and corporations. By doing so, I contribute to the Congresswoman's informed decision-making process, which is immensely rewarding.
I had an amazing experience living in D.C., where I lived on George Washington University's campus along with other Davidson students. Although we were friends before, we grew closer over our time in D.C. We were close enough to the metro that transportation around the city was quite accessible.
One of the coolest experiences over the summer was undoubtedly watching the fireworks on the National Mall for the Fourth of July. It was just an incredible experience with all my friends there as well! Additionally, Dr. Roberts took 12 of us to dinner one night at Jaleos, which was incredible food that I really enjoyed and was so thankful for.
Connor Hines '26: Inside a Top D.C. Consulting & Lobbying Firm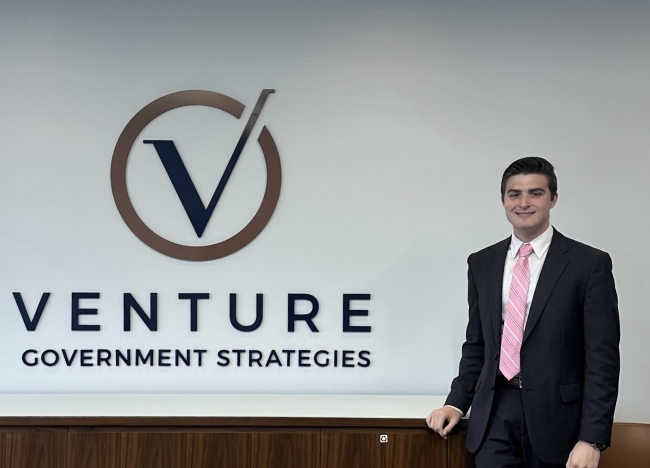 This summer, I had the opportunity to work as an intern for Venture Government Strategies, a Bloomberg Rated Top 50 Washington, D.C., firm that provides government affairs, lobbying, and consulting services for companies, associations, and coalitions in a wide range of sectors. Some of my daily responsibilities included conducting research, tracking grants, covering House and Senate committee hearings, and following vital pieces of legislation. Throughout the experience, I was able to expand my knowledge of the various sectors represented by the firm's business, and also gain a deeper understanding of the intersection between the public and private sectors.
As a resident of Mooresville, North Carolina, living in D.C. was my first experience in a major city. Living in Georgetown, I had to quickly learn how to utilize public transportation, and the proper etiquette of navigating a city (do not stand on the left side of an escalator!). D.C. is an interesting mix of a city with a small-town feel, which was at times comforting being so far from home. There was never a shortage of things to do, and I made sure to meet up with friends outside of class to tour museums, go to dinner, or see a Nationals game.
With a small group of 16 students, I was fortunate to get to know the other members of the seminar. Whether they were people I already knew or in some cases met for the first time, being together in D.C. with a common bond as Davidson students allowed me to make lasting friendships.
In addition to the students in the Davidson in Washington program, there are so many Wildcats who call D.C. home or were interning there this summer. There were many times I was walking around, on the metro, or even at the Hill where I would run into fellow Davidson students or alumni. In fact, on the first day of class, a graduate from the Class of 2018 let me into our building since I was locked outside!
Kate Spencer '24: Copy Edits, News Analysis and Networking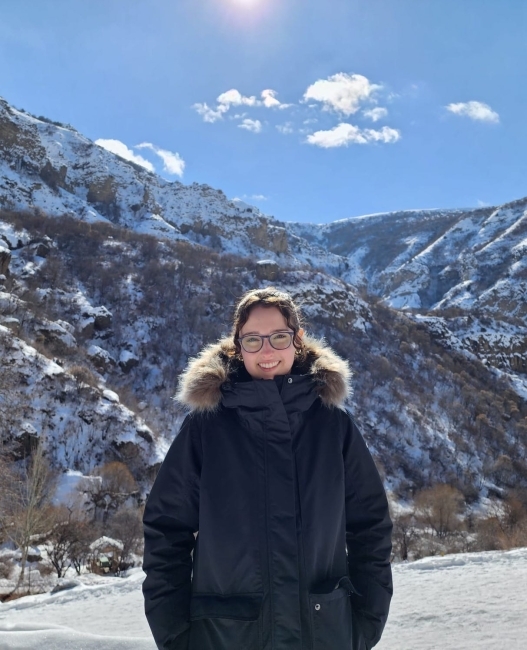 I worked as a Russian Studies intern for senior fellow Dr. Leon Aron at the American Enterprise Institute (AEI). During the summer, I helped with the copy edit process of his latest book. I also utilized Russian and English language news sources to compile packets of news stories and analysis, and answered research questions my scholar had while he was writing columns and various articles.
This summer was my first time ever in D.C. Thankfully, I felt like it was fairly easy to navigate, and I knew other people there who could help me adjust. It's a very cool city with lots to do and see. I enjoyed going to museums and different tourist attractions on the weekends.
At the end of our program we were able to meet as a full Davidson in Washington group for a networking reception. It was a great experience to reflect on our semester in the city, meet other professionals, and spend time as a full group.
One unexpected aspect of living in D.C. was how many Davidson connections were here as well. I immediately felt like I had a community when I moved here — from my roommates, to other Wildcats around town with whom I crossed paths.
Spencer Wolff '25 (he/him): At the Forefront of the United States Travel Industry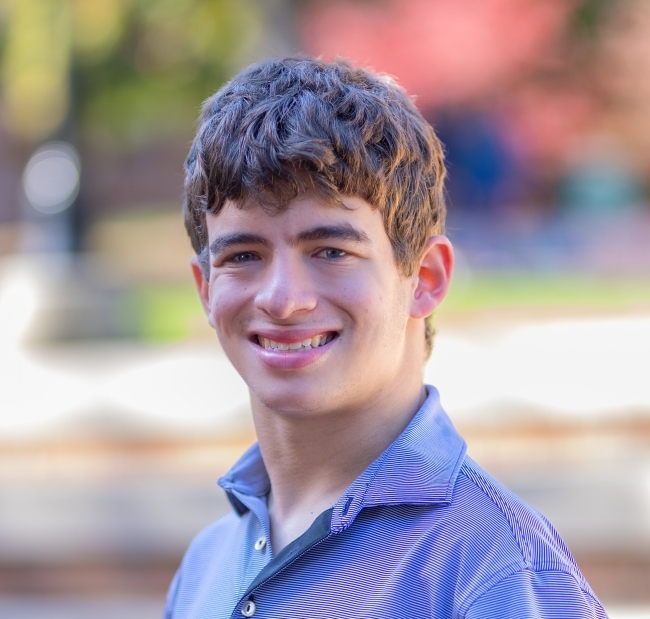 Outside of our seminar, I interned with the U.S. Travel Association, the trade organization in Washington for the travel industry. The association consists of members across the United States relating to travel, such as airlines, hotel conglomerates, and tourism offices, and U.S. Travel works to advocate for those organizations on the federal level. I worked as a public affairs intern under the amazing guidance of Government Relations and Public Affairs Manager Nicole Penn. My responsibilities included putting together bill summaries, watching hearings concerning U.S. Travel's policy priorities, and even completing expense reports. My wide variety of tasks allowed me to see what purpose a trade association serves in Washington as well as gave me insights on the full legislation process. Working at U.S. Travel was an enriching experience that not only taught me lessons about the job, but also longterm career skills.
Living in D.C. this summer was an experience that was both familiar and challenging at the same time. At home, I live 30 minutes away from a major city, so I was familiar with city life and had no challenges navigating the city. At the same time, this was my first time living alone in a major city, so I was nervous about that. Ultimately, my six weeks in D.C. were a great experience. Living on George Washington University's campus allowed me to be close to everything and with so much to do, I never felt bored in D.C. From going to different sporting events such as the Nationals or D.C. United, exploring different neighborhoods, and meeting up with friends, I loved my time living in D.C.
One of my favorite parts of the Davidson in Washington program was that even though I was in a big city, there was still a Davidson community around. Whether it be going to dinner with Dr. Roberts and my classmates, or catching up with Davidson friends, it felt as if that Davidson community I love was in a way extended in Washington.
---
Looking for More Student Stories?
Check out more student-written blog posts like this one at My Davidson, Davidson College's blog for students, by students.