Global Storyteller AJ Naddaff '19 Named Knight-Hennessy Scholar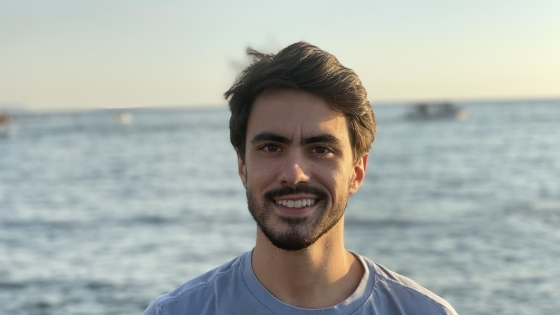 When a massive explosion rocked the port of Beirut in August 2020, AJ Naddaff '19 had to do something.
He had spent the previous winter in Beirut, interning with the Associated Press. Forced back to his parents' home near Boston by the COVID-19 pandemic, he reached out to Rebecca Joubin, chair and professor of Arab studies at Davidson. In a matter of days, they raised enough money to pay a year's school fees for 40 children in one of Beirut's most challenged neighborhoods. 
This was not the first time Naddaff's humane instincts moved him to act on behalf of people in crisis. The prestigious Knight-Hennessy Scholars program at Stanford University is betting that it won't be the last and has selected Naddaff for its 2022 cohort.
Established in 2016, the Knight-Hennessy Scholars Program is the brainchild of John Hennessy, Stanford's president from 2000-2016, and Nike founder Phil Knight. The program creates transformational leaders who bring a collaborative, multi-disciplinary and multi-cultural perspective to global challenges.
Knight-Hennessy Scholars receive funding for three years of graduate work. They also participate in the King Global Leadership Program. Through workshops, lectures, and collaborative projects, Knight-Hennessy Scholars prepare to meet some of the world's most pressing challenges, including global climate change, healthcare and education policy. 
Kid in a Candy Store
Naddaff's talent as a writer and linguist emerged early at Davidson.
"From his freshman year, AJ reminded me of a graduate student," said Joubin. "If you gave him an opportunity, he never took it for granted. He would hear something in a class or read something in a text and he would go explore it. He just really wanted to soak in knowledge."
Naddaff confesses that he often went begging in the Registrar's Office for advice about classes.
"There were so many great choices," he said. "I was like a kid in a candy shop."  
Naddaff arrived at Davidson after Syria had descended into vicious civil war. He developed a particular interest in Syrian artists and writers, many of whom had fled to Turkey or Western Europe.
"They talk about perennial existential issues more openly," he said. "There is something more visceral and human about them."
Naddaff wanted to experience these people and places firsthand, and to share their stories with a wider audience. In addition to studying Arabic, he began writing articles about Syria, its refugees and artists for The Davidsonian, Noor and al-Jadid. 
Grants awarded through the Dean Rusk International Studies program allowed him to study Arabic in Jordan and to interview Syrian artists in France, the Netherlands, Sweden and Germany. He returned to Jordan for his junior year, and he researched refugees and far-right movements in Vienna.
As a rising senior, a fellowship with the Pulitzer Center on Crisis Reporting took him to Kosovo, where his reporting on former ISIS fighters landed his first major media publication in the Washington Post.
A Generous Door-Opener, but a Terrible Spy
When other American universities began hosting Syrian students, Naddaff lobbied Davidson's administration to join the effort. Hani Zaitoun '20 responded to a Facebook post about the opportunity. Naddaff and other students helped him prep for the SAT and edited his essays. Zaitoun arrived at Davidson in the first week of January 2017—days before a travel ban barred Syrians from entering the United States. 
Zaitoun graduated from Davidson in 2020 and is pursuing a graduate degree in Germany.
"AJ is an example of the impact that one person can have in the world," says Zaitoun. "He changed my life. He opened doors to me that would not have opened otherwise. That's who AJ is. Everybody who meets AJ remembers AJ forever." With a sly smile he added, "He'd be a terrible spy."
Beirut, Palo Alto and Beyond
After graduating from Davidson, Naddaff headed to Cairo to continue his Arabic studies. He received a second Pulitzer Center grant to report on Syrian refugees in Turkey, and he spent his winter break covering the protests that paralyzed Beirut in the winter of 2019-20. Then COVID-19 sent him home.
But not for long. He returned to Beirut in the fall of 2020 to work on a master's degree in Arabic literature and to write about Lebanon's economic crisis for the Associated Press. He also delivered the funds for those school fees.
At Stanford, Naddaff will pursue a doctorate in comparative literature. He loves journalism, but he feels constrained by telling what deserve to be book-length stories in 800 words. He hopes that doctoral work will give his writing more space and intellectual depth.
"AJ is an example of the impact that one person can have in the world," says Zaitoun. "He changed my life. He opened doors to me that would not have opened otherwise. That's who AJ is. Everybody who meets AJ remembers AJ forever." With a sly smile he added, "He'd be a terrible spy."
Although Stanford is located near Silicon Valley's "think fast and break things" culture, Naddaff notes the Knight-Hennessy Scholars share a different ethos.
"It's a place where people think slowly," he said, "and try to repair what's broken."
After Stanford, Naddaff will continue to defy categories. He doesn't think of himself as a "journalist," "scholar" or "activist." He's a storyteller. He tells stories about particular people that probe universal human themes. He'll do that in whatever medium or format does justice to his subjects. 
Whatever form his work takes, Naddaff remains deeply connected to the peoples and cultures of the Middle East. Davidson continues to nourish this connection.
"Davidson truly cultivated my humane instincts," he said. "It gave me a support system that guided me and picked me up at critical points. Every idea I wanted to explore received support. Davidson never said 'no' to me."
For more information about Knight-Hennessy Scholars, contact Gaylena Merritt (gamerritt@davidson.edu) with Davidson's Fellowships & Scholarships Program.