Winners Selected from Strong Field of Venture Fund Competition Finalists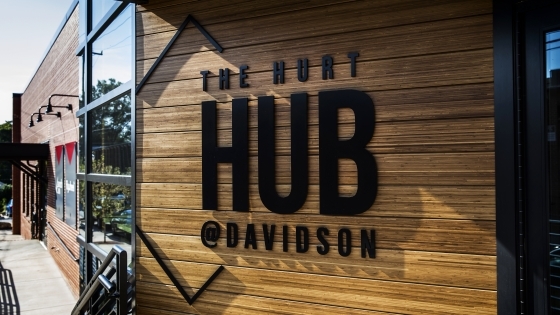 Venture Fund Competition finalists gathered with teammates and mentors this week for a virtual ceremony to celebrate this year's prize winners.
Orion, the judges' pick, won the $25,000 equity investment top prize.
Owen Bezick '21 and Calvin Spencer '23 work alongside Nico Bracco, a healthcare consultant and a Hurt Hub@Davidson co-worker, who first hired Bezick as part of the Hurt Hub@Davidson's Gig-Hub program, which pairs companies with students for short-term, paid projects. Their short-term project has yet to set an end date.

Orion is a Software as a Service (SaaS) company that connects disparate construction planning and management technologies into a common operating picture. Simply put, their software and app create a single truth for data to assist project managers overseeing multi-billion-dollar projects.
Imagine a hospital is renovating its facilities, and one of its goals is to provide 100 percent of staff with on-site parking. To do that, the management team breaks it down into projects, which range from demolition of the current structures and building new structures to signage, landscaping and more. The result is a lot of information in a lot of different places.
"We're able to track all the components of a complex project in a centralized location," Bezick explained. "We have worked with clients who are keeping track of projects on hundreds of excel spreadsheets and thousands of PDFs, so they spend a lot of time going from platform to platform. Our interactive web-based visualizations bring it all together in a customized, easy-to-use dashboard. Ultimately, our suite of applications help organizations spend less money, provide better services and implement quality construction … and we get to have a business helping them."
Bezick, recipient of the Linton '62 and Kathleen Harris Wray Endowed Scholarship, came to Davidson on the pre-med track, but one computer science class changed his trajectory. He got involved with the MakerSpace on campus, delving into 3D printing and laser engraving, and spent a lot of time at the Hurt Hub@Davidson. He graduated in December and will walk with his class at next month's commencement.
"I would be working on computer science assignments three weeks before they were due and wouldn't have touched assignments for other classes that were due the next day," he said. "I took all the math and computer science courses I could from that point forward."
Popular Vote
Leading up to the April 26 awards ceremony, the public was invited to vote online for their favorite pitch. FinSiteful, run by young alums Jack Clary '20, Axel Fries '20 and Tea Rankin-Williams '20, was the crowd favorite based on popular vote, tallying more than 3,000 votes. They received $5,000 to advance their work with college students across the country.
The FinSiteful app is designed to help college students develop sound money management skills.
"I have to give credit to my mom as MVP of the voting process," Fries said. "My family lives in the Philippines, and the community there is incredibly supportive. She made it her mission to get us the most votes, and those votes have led us to a few potential investors and partners—more than we ever expected."
Fries, who lived in Sweden during high school, was recruited to Davidson and received the Edward M. Armfield Tennis Scholarship. He wasn't expecting his path to lead him to entrepreneurship, but a math modeling project on investment analysis for Ed Van Deman '69 grew into running a company alongside two classmates and Van Deman.

The team quickly decided to get back to basics.
"Creating budgets, developing a habit of saving, building credit—those are the first steps before students can dip their toes in investing," Fries said. "College is the perfect time to learn and implement these practices, so once students graduate, it's second nature, and they are set up for success. Our app answers any related questions students might ask and allows them to make confident decisions."
To date, FinSiteful has signed on with six clients, including community colleges and athletic departments and ROTC programs at larger institutions. Right now, they are listening closely to feedback, improving their product and focusing on expanding their reach.
Both prizes are made possible thanks to Marian Nisbet and Chip Nisbet '86, who support the program in memory of Marian's husband and Chip's father, Walter Olin Nisbet III '63, a Charlotte businessman and entrepreneur.
"We are so pleased to see how the teams continue to present increasingly-impressive pitches and high-quality business plans worthy of investment and support," said Chip Nisbet. "One of our goals when we started the Davidson Venture Fund in 2014 was to generate interest in innovation at Davidson College. This year's winners were so deserving and strongly suggest Davidson has become a place where entrepreneurial students and their ideas can thrive." 
Priceless Connections
Throughout the six-week Venture Fund program, all five finalists—three student teams and two young alumni teams—were mentored by entrepreneurs and innovators from across the country. They guided the team on their pitches, offered advice about strategy and more. Advisers shared their personal cell phone numbers so the finalists could reach them at any time.
"I had a sales call last week, and I texted Mbye Njie [class of 2004], one of our advisers, to see if he had time to talk through it with me," Fries said. "We ended up talking for 45 minutes in advance of the call, and he said I could text him during my call if I needed quick guidance on anything. It's amazing that he would do that, and it worked; we got the client."
Bezick agrees the competition is about much more than competing.
"The primary reason we joined the Venture Fund was to learn," he said. "It's the perfect way to put together the materials needed to secure larger investments. From starting with Gig-Hub to now sharing a co-working space with Nico, it's really a full-circle experience. I hope more students will choose to get involved with everything the Hurt Hub@Davidson has to offer."
Things have come full circle for Fries, too, but not exactly in the same way.
"Owen was an intern with FinSiteful before working with Orion, so I think we taught him everything he knows," he said of his friend and fraternity brother. "But seriously, the prize money is incredible, and the experience is priceless. These are connections we now have for life, with each other and with our mentors."
This was the first Venture Fund Competition under the leadership of Liz Smith Brigham '04, director of the Hurt Hub@Davidson.
"Our vision at the Hurt Hub@Davidson is to provide access and exposure to entrepreneurship and innovation for all," Brigham said. "We're focused on dispelling the myth that entrepreneurship is just about tech or STEM. You can see from our finalists here that range from sustainably focused consumer products to changing financial behavior to software as a service for healthcare construction projects that there's a wide spectrum. We believe cultivating an entrepreneurial mindset is the perfect complement to a strong liberal arts education."
In addition to the winners, finalist teams have built companies rooted in their passions for hair care solutions, software delivery and sustainable jewelry. Read more about the finalists, their pitches, and this year's Venture Fund Competition mentors.