Convocation Awards a Recognition of Achievement in Extraordinary Circumstances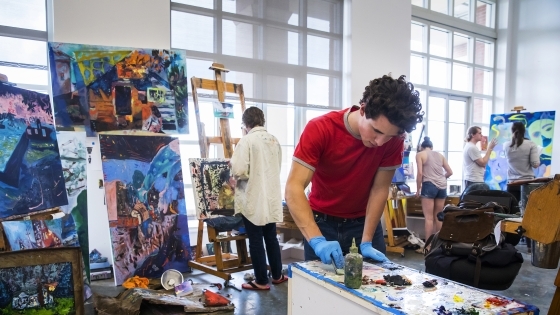 A celebration of achievement held special poignancy as Davidson College recognized a gifted artist, scholar, athlete, student faith leader and friend who lightened the lives of many others during his short time among them.
The college honored Isaac Scharbach '21 posthumously with the Ben Callinder and the Charles Malone Richards awards. The college presented those and other Spring Convocation awards virtually on Thursday.
"Isaac Scharbach embodied selflessness in all that he did. At no moment was he too busy or too important to help a friend," the Ben Callinder award states. "He consistently did the right thing without any thought of worldly recognition, and the light of his life was a glowing example of a life spent in pursuit of truth and goodness."
Scharbach, an art and classic studies double major, died last August when a car struck him as he biked near his Maryland home.  
He was a Catholic Campus Ministry leader and edited and contributed artwork to Davidson's religious literary magazine, Availing.
"His deep faithfulness was directed towards his fellow students, for whom he regularly prayed and fasted," the Charles Malone Richards award states. "His untimely death brought a terrible grief, but his belief in the life to come with God brings great comfort to those who loved him."
Scharbach was also a Davidson Outdoors leader, and often came to Sunday night Mass after a day of hiking, rafting or biking; clean and well-dressed, "sun-burned, scratched up and bone-tired, but very contented," said Scott Salvato, the Catholic Chaplain at Davidson.
"He was an amazing kid, extremely nice, and supremely gifted in so many ways it was just a wonder to behold," Salvato said. "He had so many gifts—physical, intellectual and as a leader.  He always pushed himself but never complained about being stressed or overwhelmed. He walked around with a smile on his face and that ever-present sense of contentment."
Reason for Hope
For the second time in two years, the COVID-19 pandemic scrapped plans for an in-person spring convocation. In a video, President Carol E. Quillen thanked students for the sacrifices they've made.
"You have been asked to do so much more for your family and friends, for those around you and for the community and literally the world," Quillen said.
She said that the rise of vaccination rates reminds us, "brightness does loom in the distance."
Spring Convocation awards honor future doctors and scientists, artists, economists, diplomats, writers, mathematicians, sociologists, military leaders and teachers for their college achievements. They celebrate character, service, innovation and sportsmanship.
The college also recognized scholarship recipients, honor society members, and students planning to embark on international fellowships after graduation. 
It's also a time to celebrate and thank the donors who established new scholarships to support students.
Davidson students will play pivotal roles in the health, environmental, economic and social justice challenges facing the world, Quillen said.
"Our hopefulness is spurred by the graduates who every year step out off campus and into our neighborhoods and nations around the globe," Quillen said. "We need you, people in every profession whose moral courage and empathy and powerful words inspire the rest of us to act in the best interest of our communities."
Support and Dedication
The 81 awards include several for faculty and staff members.
The Omicron Delta Kappa (ODK) staff award went to Jacquelyn Culpepper, artist associate in voice and music director for musical theatre productions.
"Jacquelyn recognizes the sacredness of human connection and brings great empathy to all that she does," the citation reads. "She is an important presence in the Davidson community as she purposefully engages, encourages, and uplifts others."
Chris Marsicano, assistant professor of the practice in educational studies, received the ODK teaching award for "his continued support for his students, making them feel supported, heard and understood. His selfless spirit and commitment to the Davidson community makes our college better as he encourages students to lead with humility and follow their passions."
The ODK community award recognized Wesley Fogg at Summit Coffee Outpost, who "has demonstrated a devotion to student life and well-being at Davidson. Wesley's warm and welcoming demeanor made the outpost the space for the many political coffee chats, class meetings, concerts and plays, and trivia events."
Physics Professor Mario Belloni received the Student Government Association (SGA) faculty award, which "recognizes the positive involvement of a professor in the lives of students outside the classroom setting."
The SGA pre-major advising award went to Assistant History Professor Alice Weimers for showing "a tireless commitment to ensuring her students find the best path to fulfilling their academic and personal goals at Davidson."
Award Recipients
Listing of Spring 2021 Convocation Award Recipients (PDF)