Transformational Gift Inspired by Alum's Scholar-Athlete Experience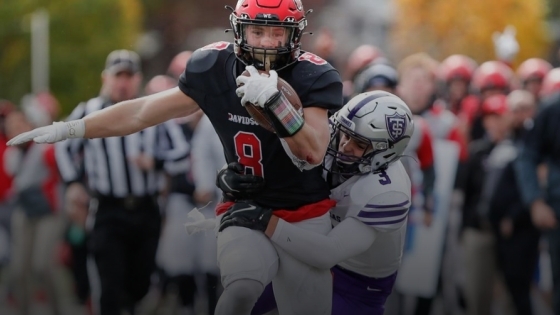 John Bazos '82 arrived at Davidson College in 1978 confident about his academic record of straight A's and high SAT scores. 
A psychology 101 class presented him with grades he had never seen before—(he jokes that someone helped him understand it was the third letter of the alphabet)—and so began a journey of learning how to learn, which served him well through dental school and a successful pediatric dentistry career. 
As a high school senior, Bazos was enticed by Davidson's culture, and pleased to find a place where he could play football while putting education first. 
"When I visited campus, the honor code impressed the heck out of me," he said. "I grew up in big cities, where the only honor code to speak of was protecting what was yours so you could take it home with you that night. I was a little skeptical, but I quickly realized this thing really works. A lot of schools tout similar codes, but I'm not sure it works as well any place else." 
He and his wife, Jan, recently made a transformational commitment to support today's Wildcats, who continue to strive for excellence in and out of the classroom. The Jan and John Bazos '82 Sports Performance Center, part of the college's "Athletics Done Right - The Next Step" facility plans, will serve students across all 21 Division I programs, including those who follow in his football footsteps. The new center will allow the existing Doe Weight Room to serve as a cardio and wellness space for the campus community.
"Jan and I became interested in this project, specifically the performance center aspect, which will support scholar-athletes while opening up existing facilities to serve the entire student body," said Bazos. "The opportunity to improve the overall wellness of campus really got us excited about it." 
Just over $21 million toward the project's total $45 million cost has been raised so far. Depending on fundraising and design progress, construction could begin as early as next summer and take an estimated two years to complete. 
In addition to supporting students financially, Bazos mentors many on the pre-dental track. He shares advice and encourages them during their own journeys to and through graduate school. 
"Davidson prepared me so well for my next steps," he said. "I worked a near full-time job during dental school because I needed the financial help, and while everyone else was complaining about the hours we worked each week during our residencies, I was ready to go." 
Football's Future
Bazos wore #75 on the Davidson football field, and he is proud of where the program stands today under the direction of Head Coach Scott Abell. He hopes this gift and the new facility will help recruit top scholar-athletes and that the team's success continues to build excitement.
"If a program's doing well, it tends to affect the entire atmosphere on campus," he said. "Some people don't understand football or have any interest in watching a game, but the team's success still matters. I disappeared for a while as I built my practice, and I'm excited to be more involved again and to be able to contribute to the betterment of Davidson." 
The 'Cats logged seven straight wins this year, the second longest single-season streak in program history. They are ranked first in the nation in rushing yards per game, third down conversion percentage and passing efficiency. In only his fourth season, Abell is the sixth winningest coach in Davidson football history. Last year, he led Davidson to its first conference crown in over 50 years, winning the Pioneer Football League and earning the program's first postseason berth in 52 seasons and a trip to the Football Championship Subdivision (FCS) Playoffs. And, he has them primed to potentially do so again this season.
"John and Jan's gift to the new facility will truly change the game for the football program, specifically, and for all scholar-athletes," Abell said. "We have been moving in the right direction, and there is always room for improvement. With this gift and these new spaces, we will be able to recruit more, train better and compete at a higher level. This is a really exciting time for Davidson Athletics and for our football program.
"I'm so proud of our players and our staff, and we are indebted to generous alums like John who share our vision for an even more exceptional future." 
Facility plans include a new stadium adjacent to the Carol Grotnes Belk Turf Field that will serve as the home for Davidson's football and lacrosse programs; a new fieldhouse, featuring a premier sports performance center equipped to serve all 21 Division I teams, along with an athletic training room, locker rooms for football, lacrosse and field hockey; and an enhanced track and field complex. The stadium will feature a new continuous seating concourse, state-of-the-art videoboard and improved fan amenities. 
For more information about the plans and to discuss the impact of your philanthropy, contact Director of Athletic Development Brandon McCladdie in the Davidson Athletic Fund Office at 704-894-2657 or brmccladdie@davidson.edu. 
Visit davidsonwildcats.com/thenextstep to learn more.