$5M Commitment Names Athletic Facility Field for Beloved Coach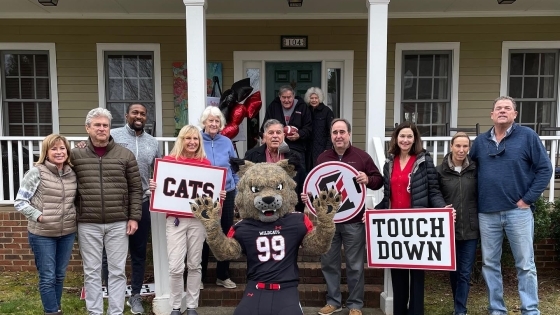 When Dave Fagg '58 and Peter Andrews '59 matched as "big and little brother" in Phi Gamma Delta social fraternity, it was the start of a lifelong friendship. That special friendship led to a $5 million commitment to the new Davidson College stadium and fieldhouse project, announced on Fagg's front lawn. 
Andrews' commitment will name Coach Dave Fagg Field.
In the fall, Davidson Athletics launched "Athletics Done Right: The Next Step"--the field will be home to the Wildcat football and lacrosse teams and serve as a focal point for campus and the entire Davidson community. The initiative also includes a track and field complex, hospitality and classroom spaces, and more.
Fagg wrestled and played football as a student, serving as captain of both teams his senior year. He was named the 20th head football coach at Davidson in 1970, which led him to coaching positions at several other institutions before returning to Davidson in 1990.
"There's double significance to this gift, and naming it for Dave was the easiest part of the decision," said Andrews, who played soccer and swam as a Wildcat. "We are very close friends who have shared all the significant life events together. And, when he left coaching and became director of the Davidson Athletic Fund, he showed me how to give and got me on the road to supporting Davidson. I loved going by his cubbyhole office and seeing a photo of him and Barbara from their trips to visit us in the Bahamas."
Andrews and his wife, Vicky, live in Nassau, where Peter most recently retired as executive director of Bahamas Waste Limited following several other leadership roles in business. His children are also key to this gift—Cathy Andrews Schlei '81 and Geoffrey Donald Andrews '83, who share their father's alma mater, and Philip Newton Andrews, who graduated from Georgia Tech.
Peter and Vicky Andrews traveled to North Carolina to surprise Dave and Barbara Fagg with the good news.
"Peter is such a great Davidsonian and an example for all of us," Fagg said. "There are some who can, but don't. There are some who can, and do—Peter is one of those."
When the Andrews-Fagg friendship first started, however, Andrews didn't always do as expected. Fagg recalls the days of Davidson as a dry campus and the fraternity brothers who needed "a little encouragement to behave."
He was coaching before he was a coach.
"Peter might have needed a few reminders," Fagg recalled with a laugh. "I had to give him a little speech about responsibility, and I could be sure if we had a dry party from 7-10 p.m. … at 10:01, there he'd be, ready to have a little more fun."
A New Field 
Fagg admits he had no idea what he was doing when he moved from coaching to fundraising, but he approached the two with a similar mindset.
"It's the same way I recruited athletes," he said. "I'd jump in the car and ask someone for a million bucks. And if they said no, I'd just come back later. You should never underestimate anyone; you'll never embarrass them by assuming they are capable of doing more." 
From volunteer service to financial contributions, both Andrews and Fagg have made the college better and enhanced student experiences time and again. Andrews' first gift to Davidson led to the creation of men's soccer scholarships through a multi-year commitment. This latest gift is a transformational statement about Andrews' love for his dear friend and his unwavering commitment to the future of Davidson Athletics and alma mater.
"The new facilities will take Davidson Athletics to a new level, and Peter is a driving force behind this transformation," said Director of Athletics Chris Clunie '06. "Every day, we will see the impact of his generosity and be reminded of the close relationships that make Davidson so special. We are grateful for Peter's loyalty to Davidson and the power of doing athletics the right way."
Andrews has deep appreciation for his Davidson experience as a scholar-athlete. He majored in history and English and was involved in ROTC. This gift helps support all those who follow in his path while celebrating a friendship for the ages.
"What an honor it will be to compete on a field named for a coach, alum, volunteer and partner who has done so much for Davidson College, made possible by an alum, visionary and collaborator who is a tremendous advocate for the Wildcats," said Football Head Coach Scott Abell. "Generations of Wildcat scholar-athletes will understand the importance of this name and the meaning behind it. I am excited about the many ways these new facilities will enhance our Davidson Football Program and all of Davidson Athletics for years and years to come."
Giving $5 million was a very big decision, but how to do it came easily.
"To me, Dave represents all the good in Davidson there is," Andrews said. "He has devoted his life to the college. Really, this was a no-brainer."  
To learn more about Athletics Done Right - The Next Step, contact Brandon McCladdie, director of athletic development, at bmccladdie@davidson.edu or 704-894-2657.
Related Coverage
'In Honor of Our Teammates': Sheridan Brothers Pledge Support to New Facilities
Williamsons Move Davidson Forward With $1 Million Athletics Gift