It's Official: Class of 2020 Celebrates Commencement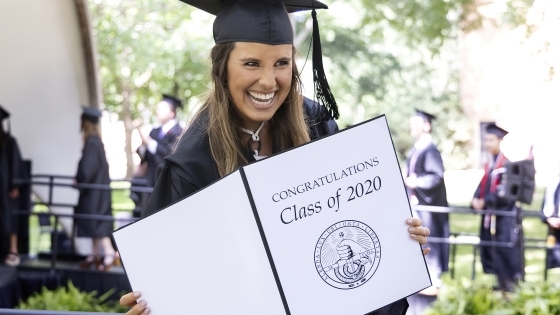 A happy class of 2020 and their proud families celebrated their long-awaited commencement ceremony at Davidson College on Sunday.
The usual commencement hugs, cheers and tears came with an extra dose of gratitude for the chance to be together two years after the COVID-19 pandemic quashed their original ceremony.
"We're so happy and grateful to welcome you back," President Carol E. Quillen told the returning graduates. "Our world is already benefitting from your leadership and service."
Some 75 percent of the 484 graduates returned for the ceremony. College trustees raised $200,000 for a travel fund to pay expenses for those who needed it. They came from as far as Taiwan, and as close as Davidson.
Class of 2020 President Caroline Roddey joked that it was fun for everyone to revert to their old college selves.
"My excitement about being back with you all has only grown over these past two years," Roddey said, adding that with the unusual circumstances preceding the event, "I will maintain that we are the best and most iconic graduating class that Davidson College has ever seen."
She spoke of the challenges they've faced:
"I know I'm not the only one when I say the past two years were not the easiest entrance into adult life," she said. "We lived it, we did it, and we're here now."
Whether you spent your first two years in your dream job or your dream program or if you spent them in a place you never expected, just trying to figure out your next steps, I hope you're celebrating the fact that you made it here, and you made it through the past two years. And that's no easy feat.
Caroline Roddey '20
The graduates represented 40 states and 18 countries.
Some 273 received Latin honors; with 136 graduating cum laude and 132 as magna cum laude. Five students shared the First Honor of summa cum laude.
The class included nine John M. Belk Scholars. The Belk Scholarship is one of the nation's most prestigious undergraduate scholarships. It covers tuition, fees, room and board and special travel grants.
The Belk Scholarship recognizes students for leadership, outstanding academic achievement, integrity, creativity, compassion and intellectual curiosity.
The class's most popular majors were political science (72), economics (68), biology (66), and psychology (47).
At the ceremony's conclusion, the crowd cheered for President Quillen. It was her last time presiding over commencement after 11 years as the college's president. She's stepping down in July and plans to spend the next year on sabbatical.
President-elect Douglas A. Hicks '90 will take over the post on Aug. 1.
Commencement Photo Gallery
Davidson College celebrates its graduates from the Class of 2020.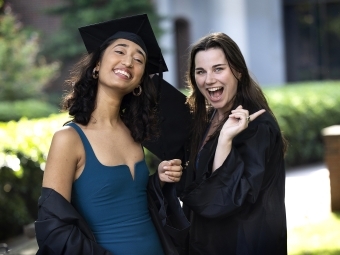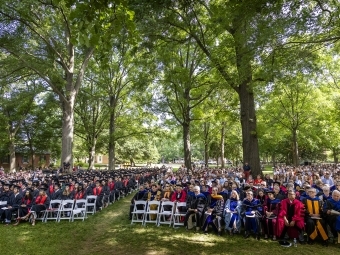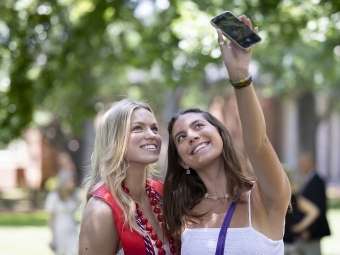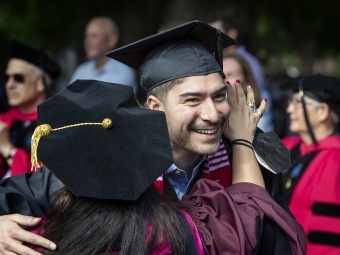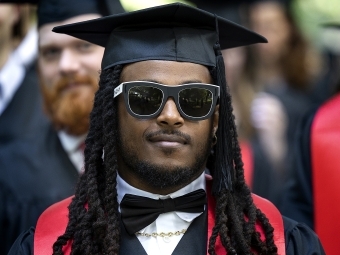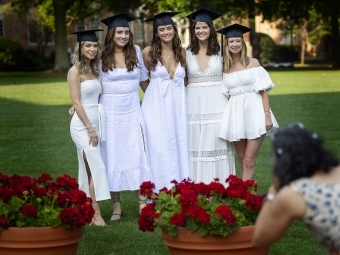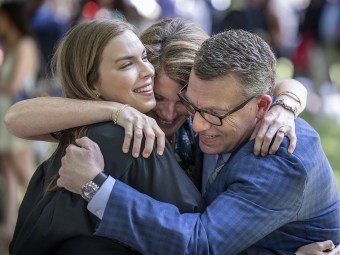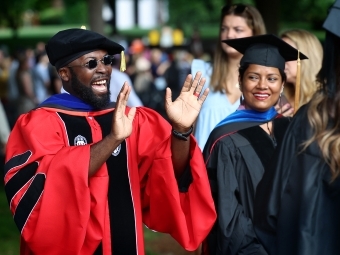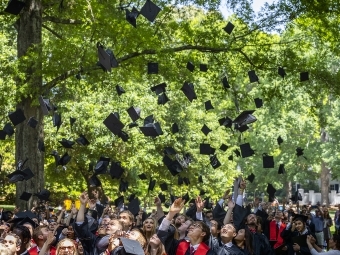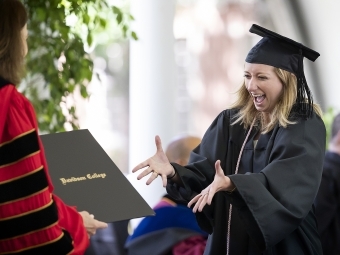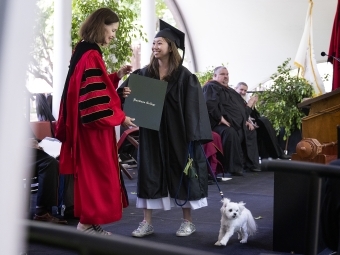 ---
Hunter-Hamilton Love of Teaching Award
The college previously issued 2020 Hunter-Hamilton Love of Teaching Awards to:
Physics Professor Mario Belloni, "For your skillful teaching, your extraordinary patience and generosity with students…and your ability to make subjects that are as intimidating as quantum physics not only comprehensible but fun."
Associate Professor of Chemistry Nicole Snyder, "For understanding your students' hopes and dreams, for challenging those students to become better people, and for being the mentor your students hope to emulate."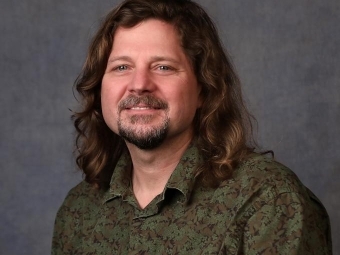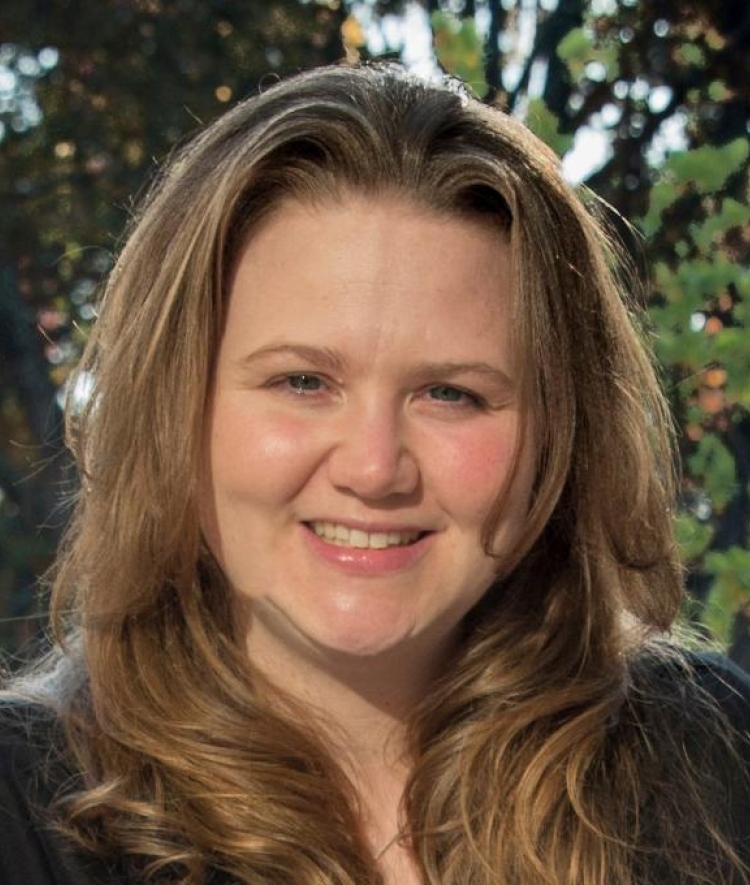 Algernon Sydney Sullivan Awards
The awards go to one graduating student and one member of the larger Davidson Community who exemplify the "the fine spiritual qualities practically applied to daily living, usually going to persons who have given unselfish service without due recognition."
Emily Duval learned she won the Algernon Sydney Sullivan student award in 2020; and collected it during Sunday's ceremony. Duval spent her college years helping women and children struggling with homelessness at the Crisis Assistance Ministries and Salvation Army Center of Hope in Charlotte.
The Bonner and Quest scholar also taught children in the LEARN Works after-school program at the Ada Jenkins Center, and as a summer servant leader intern with Freedom Schools.
She's now a Charlotte-Mecklenburg Schools teacher.
Edwin Arocho received the 2022 community member award. Arocho, originally from Puerto Rico, has volunteered at Davidson Elementary School for more than a decade, helping wherever needed, including serving as a math and science tutor and Spanish language interpreter. "No one has given so much to the students and expected so little in return."