Shelley Rigger Named College's Chief Academic Officer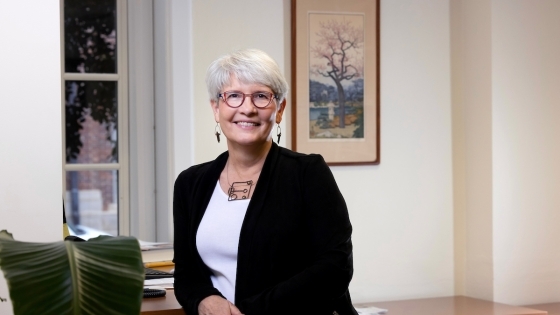 Respected educator and author and internationally recognized Taiwan expert Shelley Rigger will serve as Davidson College's new vice president for academic affairs and dean of the faculty–the college's chief academic officer. 
Rigger, who has been serving in the vice president's role on an interim basis since May, immediately begins the job on a permanent basis and adds the dean of faculty duties. She succeeds Philip Jefferson, who was nominated to the Federal Reserve Board of Governors by President Biden and confirmed by the Senate.
"Davidson is filled with extraordinary faculty who are devoted to mentoring their students and helping them learn how to learn for the rest of their lives," Rigger said. "I'm deeply honored to work with and support these talented professionals."  
Rigger is the Brown Professor of Asian Studies at Davidson and has taught political science since 1993. She has authored four books and countless articles on Taiwan and routinely appears in the news media to offer insights on the island nation. She was a Fulbright Scholar and has taught in Taiwan and Mainland China. At Davidson she has held administrative posts, including, most recently, the highest elected faculty role. 
Replacing Jefferson was one of the biggest responsibilities facing Davidson President Doug Hicks when he took office on Aug. 1. Hicks is a 1990 graduate of the college.
"Since I returned to Davidson as president, I have relied more on, and become even more grateful for, Shelley's thoughtful and progressive leadership," Hicks said. "I am extraordinarily grateful that she has agreed to stay in the vice president's role as Davidson moves forward."
Hicks also announced that Eriberto "Fuji" Lozada, who has been serving as acting dean of the faculty, will be promoted from associate dean of the faculty to senior associate dean of the faculty. He will continue responsibilities in collaboration with Rigger, including coordination work around faculty development.
"Fuji brings exceptional depth of academic and administrative experience," Hicks said, "having taught at Davidson and Butler and in China and South Korea. I appreciate the counsel and leadership he has offered over the past few months.
Lozada, an anthropologist who also teaches in Environmental Studies, has chaired Chinese Studies and served as director of both the Center for Interdisciplinary Studies and the Crosland Center for Teaching and Learning at Davidson.
Diversity Officer Role 
Hicks announced an additional change for the college in creating a full-time chief diversity officer position who will report to the president. 
"Davidson's statement of purpose emphasizes respecting the dignity and worth of every person," Hicks said. "This new role will help us ensure that our campus can and should model inclusion and be a place where everyone experiences, not only a sense of welcome, but belonging. 
Hicks said he will work with faculty and staff in the coming months to frame the new position and to fill it by the summer of 2024.
Lozada will retain those responsibilities this year. For the 2023-2024 academic year, Melissa González, a professor in three overlapping fields, has agreed to serve as interim chief diversity officer. 
"Melissa exemplifies the interdisciplinary work we cultivate at Davidson, teaching and advising students in Hispanic Studies, Latin American Studies and Gender and Sexuality Studies," Hicks said. "She has partnered with students with a wide range of intellectual interests on research projects that span multiple fields of study."
He emphasized that all of the changes strengthen Davidson's ability to fulfill its mission and thanked the college's faculty and staff for supporting Davidson's students and each other.