$10M Commitment Names Fieldhouse, Honors President Quillen's Leadership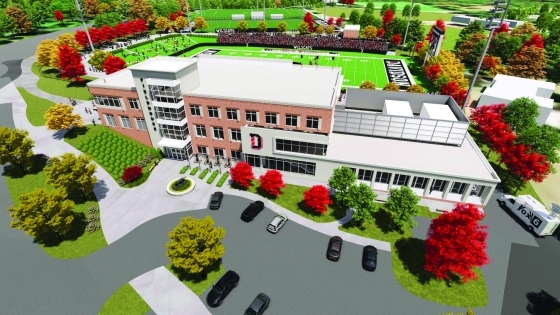 When Richard ("Rick") Halton '77 and his husband Jean-Marc Frailong made a $25 million commitment to Davidson in their estate plans, the couple was interested in supporting scholarships and other initiatives that would benefit from their transformational generosity.
Those interests remain, but after a recent conversation with President Carol Quillen and a deeper dive into campus initiatives, Halton and Frailong have decided to commit $10 million of the planned gift to the college's athletics facilities project, "Athletics Done Right - The Next Step."
This gift will name the Game Changers Fieldhouse, in honor of Quillen's 11 years of leadership at Davidson, including the wildly successful Game Changers: Inspiring Leaders to Transform the World campaign that raised more than $555 million for the college.
"Sports have never been my thing, really, but I am inspired by all Carol has accomplished at Davidson and her vision for the college's future," Halton said. "Through our conversation, I understand better now the important role athletics plays on campus and what our scholar-athletes contribute, both as students and as alums. Exceptional athletics facilities mean we can recruit even more of these talented students, who might be looking elsewhere, to Davidson."
Halton looked elsewhere and ultimately chose Davidson over a host of other top institutions. While he is grateful for what he learned at Davidson, he says the college was a very different place 45 years ago. He is proud of the ways in which Davidson has changed and how the college prepares students for the world they are entering today.
"Carol's many contributions will continue to shape Davidson after her presidency," he said. "These new facilities will be a great addition as they welcome all the devoted alums who come to campus to cheer on the Wildcats."
The fieldhouse is part of an overall facilities project that includes a new stadium for football and lacrosse, a track and field complex and more. The project has raised nearly $38 million toward a $49.5 million goal, and construction could begin as early as this summer.
One of the spaces within the Game Changers Fieldhouse will be Gallery 18, which also honors Quillen's leadership as the college's 18th president. This multi-use room will serve as a hospitality, classroom and meeting space that will highlight the many non-athletic accomplishments of the college's exceptional scholar-athletes. Quillen has been a steadfast champion for doing athletics right, as students pursue excellence on the field, court or pool, while achieving excellence in the classroom.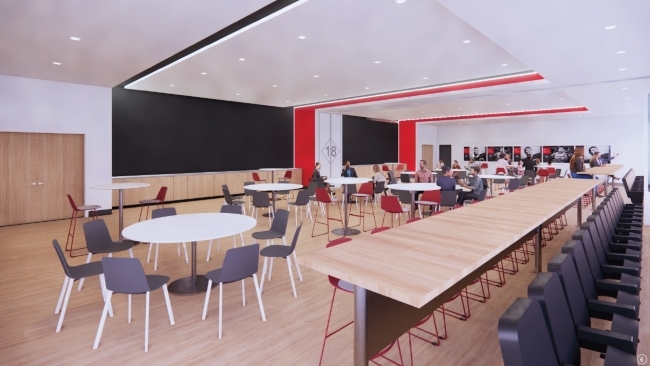 To date, more than $3 million has been raised for Gallery 18, including leadership support from Sonoko and David Barnard '79, Pam and David Sprinkle '66 and Cheryle and Joel Williamson '67. David, David and Joel serve as members of the Board of Trustees.
To learn more about contributing to the overall facilities project or to Gallery 18, specifically, contact Brandon McCladdie, director of athletic development, at bmccladdie@davidson.edu or 704-894-2657.