Richardson Stadium is the home to Stephen B. Smith Field and Irwin Belk Track.
Seating up to 6,000 Wildcat fans, Richardson resonates with memories of homecoming and alumni cake races. Richardson Stadium also holds the Hubbard Family Football Locker Rooms, the Doe Weight Room and the Wilson Terrace.
Richardson Stadium had its inaugural season in 1923, due to the generous gift of Lunsford Richardson, Jr., '14 and Henry Smith Richardson '06, in memory of their father, Lunsford Richardson, Sr., Class of 1875.
Irwin Belk Track
A 400 meter, eight-lane track built to international standards, Belk Track includes areas for the high jump, long and triple jumps, pole vault, shot put, discus, javelin and steeplechase. The track was completed in 1999, allowing Davidson to host home meets for the first time since 1991. The track is named in honor of Mr. Irwin Belk '45, in recognition of his generous contributions as a community leader, sportsman, philanthropist and son of Davidson College.
Stephen B. Smith Field
Athletic teams have taken the field at this location since 1923. The home for many years for multiple Davidson sports teams, Stephen B. Smith Field is now the exclusive home of Wildcat Football. The field was renovated and renamed in 1999. The field is named in honor of Stephen B. Smith '66, former Trustee of the college and member of the Southern Conference All-Academic football team, in recognition of his loyalty, service and generosity to Davidson College.
Don Bryant Press Box
While the old press box in Richardson Stadium was built in 1965, the expanded Don Bryant Press Box boasts a refurbished box for coaches and radio crews, and an additional press box with seating for 28 media and operational staff members. The renovated and expanded press box is named for Don Bryant '45.
Doe Weight Room
The state-of-the-art Doe Weight Room has 5,000 square feet of space and is equipped with free-weight equipment available to all the school's students and staff. It has 16 power racks, eight lifting platforms and other cutting-edge lifting and conditioning equipment to train the whole body. It is located in Richardson Stadium, with entrance on the north end, near the Knobloch Campus Center. The room is named for Ernest "Ernie" Gordon Doe '69, a football player at Davidson, a national weight lifting champion and dedicated alumnus. The weight room opened in 2005.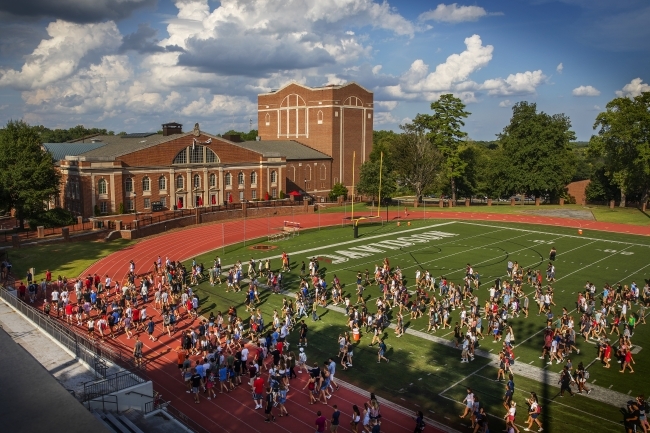 Directions
Located at 201 Faculty Drive, The Football field is accessible from Concord Road in Davidson. Parking is available in the Baker Sports Complex on Baker Drive. The stadium is located northwest of the lot.