Davidson believes that knowledge of other cultures and of the social, economic, political and scientific forces that shape our world are integral to a liberal arts education.
Our students embrace education abroad. About 65 percent of each graduating class has studied abroad for a year, a semester or a summer.
Through a variety of study-abroad programs, biology students, as well as students from other disciplines, have the opportunity to study diverse ecosystems first hand, conduct field research, examine public health issues, learn from experts, and become responsible global citizens.
Contact Davidson's Office of Education Abroad for more information.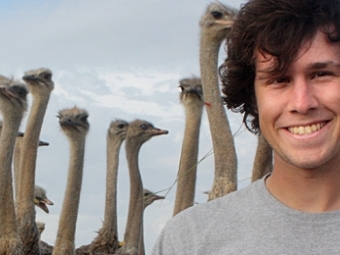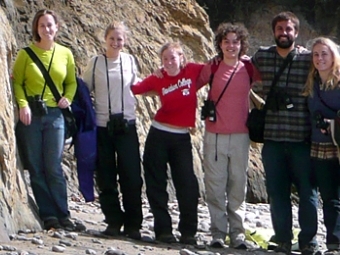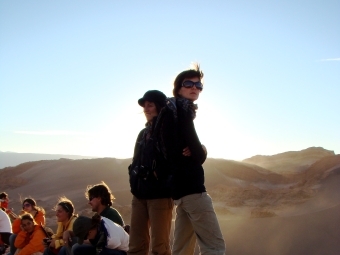 The School for Field Studies
The School for Field Studies' (SFS) semester and summer programs, accredited by the University of Minnesota, create transformative study-abroad experiences through field-based learning and research. SFS "classrooms" include coral reefs, rainforests and African savannas, with programs available in Panama, Bhutan, Kenya and Tanzania, Australia, New Zealand, Costa Rica and the Turks & Caicos Islands.
Davidson students receive priority acceptance to SFS programs, and can receive biology course credits for them.
Davidson in Mwandi
Every summer Prof. Verna Case leads a month-long trip to Mwandi, Zambia as part of the BIO368 course. Students attend rounds and do rotations under the supervision of health care workers in the mission hospital.
Contact Prof. Verna Case (vecase@davidson.edu) for more information.
Danish Institute for Study Abroad
The Danish Institute for Study Abroad provides a wide variety of science courses taught in English in fields such as biology, bioinformatics, biotechnology, medicine, environmental science, neuroscience and public health.
SIT Study Abroad
SIT Study Abroad (School for International Training) offers semester, summer, and academic-year field-based programs for undergraduate students in Africa, Asia and the Pacific, Europe, Latin America and the Middle East. SIT students experience cultural immersion through fieldwork, intensive language classes and urban and rural homestays with local families. They do research through an independent study project or case studies.
Students who participate in SIT Study Abroad programs are prepared to be interculturally effective leaders and professionals committed to responsible global citizenship.
Other Off-Campus Study Opportunities
Biology students are encouraged to study off-campus as part of their undergraduate education. Advanced planning is particularly helpful. Consult Prof. Kevin Smith and Davidson's Education Abroad Office for program suggestions and considerations. A few of the many off-campus study programs a Davidson Biology student might consider include:
School for International Training Africa, Asia, Europe, Latin America, Caribbean, Middle East

Danish Institute for Study Abroad  Copenhagen, Denmark

Institute for Study Abroad Australia, Argentina, Chile, China, Costa Rica, Egypt, UK, India, Mexico, New Zealand, Peru
Council on International Educational Exchange Africa, Middle East, Asia, Australia, Europe, Latin America

Center for Education Abroad Australia, China, England, France, Greece, India, Ireland, Italy, New Zealand, Scotland, South Africa, Spain, Tanzania, Wales
Support for Post-Bac Study Abroad
Davidson's Office of Fellowships connects students and recent alumni to prestigious and world-renowned fellowships and scholarships. Interested candidates (including students and alumni) are invited to schedule an Office of Fellowships advising appointment with Gaylena Merritt (gamerritt@davidson.edu).
The fellowships and scholarships below are those we most often work with for graduate study and research opportunities outside of the United States:
* Must be endorsed or nominated to apply
^ International students may be eligible