Davidson Arts and Creative Engagement was initially created with the mission to integrate art and creativity into the daily lives of the Davidson community.
Since then, the DACE office has spread its mission through a variety of initiatives including grant offerings, the traveling art cart, and the creation of the DACE studio. The DACE studio is a place where creativity is made accessible to all.
I come to the DACE studio when I want to do something solely for myself. When I am creating in the studio, I consistently feel present, engaged, and excited.
Shreya Sharma '24
The DACE studio provides a creative outlet for students seeking stress reduction and creative play for inner resiliency. We are a space dedicated to student expression and wellness! 
What can you do in the studio? 
There are a variety of materials available for student use including but not limited to: sewing machines, knitting machine, yarn and string, embroidery tools, paints, coloring utensils, paper, canvas, etc. The DACE Studio is a shared space, so everyone who enters is responsible for keeping the space clean and orderly.

Workshop Wednesdays: Student-led evening workshops designed for students, faculty and staff. These workshops give our community a chance to explore and learn a new creative skill. Previous workshops have included clay, sewing, painting, and printmaking.
Hours & Location
The studio is located in the the north basement of Chambers and is open Monday through Friday, from 10 a.m.–5 p.m. Night hours and weekend hours will be announced in the fall.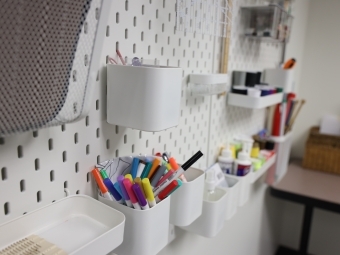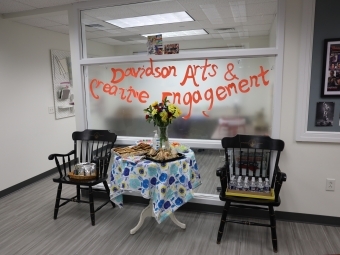 The first day I came in I hadn't even touched paint or a needle since I was a little kid. The workers and abundance of materials helped me reignite a passion for art and I've learned to put so many ideas to life with the help of the studio in such a short amount of time.
CJ Bennett '23
Clubs, Organizations and College Departments