COVID-19 Updates
In observance of state requirements, the College Store will be limiting customers to 25 per floor of the building. All customers will be required to wear masks and plexiglass has been installed to separate cashiers from customers. Public bathrooms are not available at the College Store and the fitting rooms are closed.
Students should have received an email from the College Store letting them know that any reserved textbooks will be available for pick up in the Knobloch Campus Center (Alvarez 209—outside of the main entrance to the Duke Family Performance Hall) along with other packages. Students are urged to take advantage of this service to avoid having to wait in line outside the store.
Students who rented textbooks during the 2020 spring semester have been granted late returns without penalty through January of 2021. 
Please contact the College Store directly with any questions.
The Davidson College Store offers Davidson branded merchandise and also serves as the campus bookstore, where students can purchase books for their courses.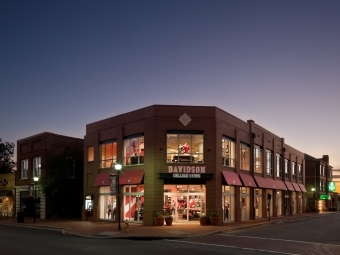 The Davidson College Store, the college's official bookstore and merchandise provider, is located at 137 N. Main St., Davidson, NC 28036. The store is open Monday - Saturday, 10 a.m. - 5 p.m. Visit davidsoncollegestore.com to shop online and for more information.
College Store
Physical Location
137 N. Main St.
M - Sat. 10 a.m. - 5 p.m.