The arts play a vital role in fostering creativity, collaboration and learning at Davidson.
Members of Friends of the Arts support the visual, performing and literary arts at Davidson College. Because of the generosity of our members, the college offers dynamic programs that enhance the academic curriculum at the college and expand audiences' awareness of and accessibility to the arts in our community. Specifically, faculty and student projects in the music, theatre, visual and literary arts are supported by Friends of the Arts.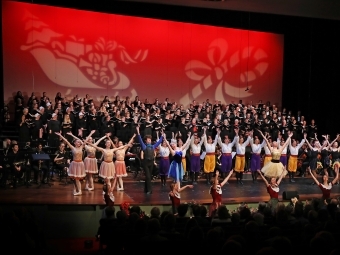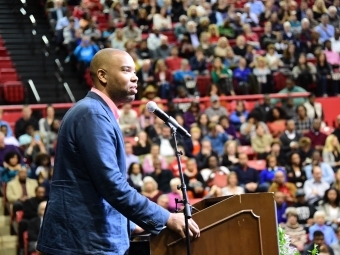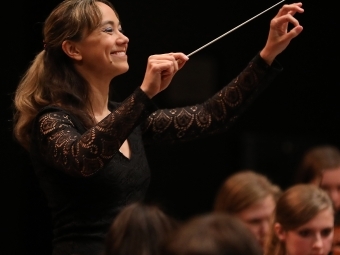 The artist-in-residence program is also supported by Friends of the Arts and it remains essential to the creative life of the college. The college is proud to host renowned guest vocalists, musicians, dance troupes and theatre companies from around the world as part of the Smith Artist Series and Concert Series. 
Davidson hosts traveling gallery exhibits, student and faculty works, and our own extensive permanent collection of visual art at the Katherine and Tom Belk Visual Arts Center. And throughout the academic year, our exceptional Davidson students share the stages, contribute to the galleries and reach into the community as part of the many performances, exhibitions, demonstrations and lectures.
Become a Member
Friends of the Arts members make these connections possible. Membership benefits are available at various giving levels, including special events for donors, priority ticketing and seating, advanced notification of performances, exhibits and lectures by email and wonderful volunteer opportunities.
We invite you to learn more about the arts at Davidson College and hope you will join our efforts by making a tax-deductible gift today. For more information, please email the Director of Davidson Arts and Creative Engagement, Sherry Nelson, at shnelson@davidson.edu or call 704-894-2101.
Student & Alumni Profiles
Join Our Mailing List
The Friends of the Arts eNews is a great way to stay in touch with art events on campus. Published monthly, the eNews highlights theatre, music, visual arts, and literary events. You will have plenty of time to mark your calendar, buy tickets, and enjoy an evening on Davidson's beautiful campus. The international, national and local artists perform and exhibit in intimate venues throughout the college.
For more information, please email Sherry Nelson, director of Davidson Arts and Creative Engagement, at shnelson@davidson.edu or call 704-894-2101.
Contact Information
Phone
704-894-2101
Email
dcfota@davidson.edu
Mailing Address
Box 7176
Davidson, NC 28035
Shipping Address
209 Ridge Road
Davidson, NC 28035