Davidson's giving societies recognize our most generous donors and the disproportionate impact they create for the college and its students.
Giving Societies
Ne Ultra Society
The Ne Ultra Society was created in 1972 by the college's Board of Trustees to honor those who make exceptional gifts to Davidson. The Ne Ultra Society recognizes donors contributing gifts of $2,500 or more during the fiscal year. In recognition of our generous donors, Davidson has created five leadership giving circles.
Ne Ultra: $2,500-$9,999
Cum Laude: $10,000-$24,999
Magna Cum Laude: $25,000-$49,999
Maxima Cum Laude: $50,000-$99,999
Summa Cum Laude: $100,000 and above
Young alumni gifts are also recognized at the Ne Ultra Level.
Class of 2023-2024 (0-1 year out): $100
Class of 2022 (2 years out): $200
Class of 2021 (3 years out): $300
Class of 2020 (4 years out): $400
Class of 2019 (5 years out): $500
Classes of 2018-2014 (6-10 years out): $1,000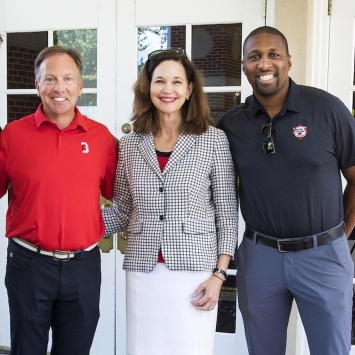 We wanted to make a gift that would really make a difference and raise people's creativity for supporting other programs. Everything we do is to be a catalyst for others.
Steve MacMillan '85 on his family's gift to support the Davidson Golf Program
Founders Roundtable Society
The Founders Roundtable Society recognizes those who have made lifetime commitments to the college of $100,000 and above. The President's Circle of the Founders Roundtable celebrates those who made lifetime commitments of $1 million or more, as follows:
Cum Laude: $1,000,000-$2,999,999 lifetime giving
Magna Cum Laude: $3,000,000-$4,999,999 lifetime giving
Maxima Cum Laude: $5,000,000-$9,999,999 lifetime giving
Summa Cum Laude: $10,000,000+ lifetime giving
---
Phi & Eu Society
The Phi & Eu Society is a new recognition society for those individuals who have included Davidson in their estate plans and have shared their intentions with the college. This society honors our shared history of commitment to education and transformational philanthropy and is a celebration of your deep support of Davidson College.
What can you expect from Phi & Eu Society membership?
Invitations to exclusive society events

Recognition at college events and in college communications

Special communications throughout the year

And small tokens of our appreciation
The Davidson College of today is a testament to the commitment of our predecessors. The Davidson College of tomorrow will be a testament to you. Thank you for your support.
---
Fideles Society
The Fideles Society was introduced in 2004 as means to honor the most loyal supporters of Davidson. Fideles literally means "the loyal ones" and the giving society recognizes longstanding commitment to the college. Donors automatically become Fideles Society members after making gifts to Davidson for five or more consecutive years.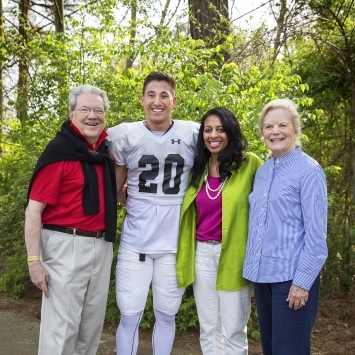 I came from a happy but poor family, but we were reassured in 1958 that while students may leave Davidson for academic or medical reasons, they never leave because of financial concerns. So, after I graduated, I wasn't sure how, but I knew I'd give something back to Davidson every year.
Gene Adcock '62 on his family's support of Davidson scholarships
For more information on Giving Societies, please contact: Katie Davidson, Director of Donor Relations, at kadavidson@davidson.edu or 704-894-2688.